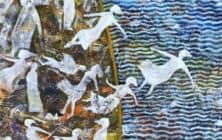 ArteAraba/Ramallah/
Dal 15 gennaio al 2 aprile 2020 la mostra Shoreless Sea di Tayseer Barakat è alla Zawyeh Gallery di Ramallah. La galleria ha condiviso parole molto significative e poetiche per descriverla qui tradotte in italiano da Claudia Avolio su gentile concessione della Zawyeh Gallery.
Questo non è un mare come gli altri: è un mare senza rive. Qui il nuotare non ha fine e annegare è possibile; anche separarsi dai propri cari lo è. Onde si alzano e sbattono con ferocia. Elicotteri sorvolano barche. Rifugiati scappano da guerre sanguinarie. Momenti intimi rubati in un'atmosfera piena di panico e la speranza è ancora possibile.

In Shoreless Sea, le opere di Tayseer Barakat si manifestano come una narrazione sui viaggi disperati dei rifugiati per attraversare il Mediterraneo verso l'Europa alla ricerca di una vita normale.
Il Mediterraneo è stato parte della vita dell'artista: anche lui è un rifugiato e ha vissuto vicino alle coste di Gaza da bambino e lungo quelle di Alessandria come studente universitario. Eppure quel mare è diventato più freddo da allora. Si è fatto anche impietoso e il suo appetito è cresciuto. D'un tratto ha nascosto le sue spiagge, lasciando le persone a bordo a vagare nella disperata ricerca di vie di fuga.
La tecnica di disegno che Tayseer Barakat usa crea una vera sensazione di onde che si muovono, acque turbolente e un mare vivo. Guardando da vicino, si potrebbe immaginare Poseidone, dio greco del mare, che orchestra mareggiate e crea enormi onde lungo la superficie. Si potrebbe perfino sentirlo respirare sotto le acque attraverso i polmoni di centinaia di rifugiati che hanno perso la propria vita annegando nelle profondità.
Una barca getta in mare chi è a bordo, anime che volano nei cieli, missioni di salvataggio, una madre che stringe forte i propri figli, due amanti, pattuglie di frontiera, un elicottero che vola sulle loro teste… Viaggi eroici culminano in una fila di rifugiati detenuti che camminano verso una destinazione sconosciuta… Si potrebbe addirittura immaginare quelli che sembrano riti cerimoniali presenziati da quei pochi che sono riusciti a oltrepassare tutti gli ostacoli incontrati.
In una serie di grandi dipinti dal titolo "Separation", il colore bianco domina, riflettendo il freddo del mare e l'indifferenza del mondo verso la grave condizione dei rifugiati. In un dipinto due figure appaiono ai lati separate da una vasta campitura di bianco. In un altro la schiuma del mare assume la forma di parole non pronunciate di chi in quel mare è morto… Addii in momenti di separazione forzata e sopravvissuti che cercano quanto rimane. In mezzo a tutto questo, le donne sono il punto focale delle scene: una donna mette le mani dietro la schiena in uno stato di attesa e anticipazione; un'altra colorata di arancione cerca di spezzare il freddo della superficie bianca col calore del suo corpo in volo; una sposa è in piedi accanto al mare e un'altra guarda in uno specchio: è lei la prossima vittima sacrificale che sazierà il dio del mare?
La mostra Shoreless Sea di Tayseer Barakat alla Zawyeh Gallery di Ramallah nel video di Alghad Extra
Tayseer Barakat è nato a Gaza nel 1959 e ha completato il suo percorso di studi artistici ad Alessandria d'Egitto nel 1983. In seguito si è trasferito a Ramallah dove tuttora vive, insegna e crea arte. L'artista ha lavorato con una serie di media, sperimentando molto (col legno, il metallo, il vetro) ed è diventato uno degli artisti contemporanei più importanti della Palestina. La pittura resta il suo primo amore e continua a lavorare in modo prolifico, attingendo dal retaggio artistico della regione e dalle sue antiche influenze.
La sua pratica ha tratto ispirazione dall'antico passato, dalle tradizioni orali e dalle narrazioni intimamente connesse alla vita in Palestina. Lavorando principalmente con la pittura, l'inchiostro e le tinte, usa una tavolozza spesso limitata a toni monocromatici che infondono alle sue opere una certa sobrietà. Nelle sue parole, i colori scuri che utilizza "riflettono le avversità del nostro tempo e della nostra vita presente. Penso che la pressione su di noi ci faccia usare colori scuri".
Le sue mostre personali comprendono la Biennale di San Paolo (Brasile, 1996), The Number that Became a Name (Ramallah, 2006) e Distant Voices alla Zawyeh Gallery (Ramallah, 2014). Ha tenuto altre 10 mostre personali e preso parte a numerose mostre collettive con molti dei suoi contemporanei in Giappone, Stati Uniti, Brasile, Europa e nel mondo arabo.
Sulla pagina Facebook della Zawyeh Gallery troviamo questi e altri bellissimi scatti realizzati in occasione dell'inaugurazione della mostra di Tayseer Barakat
Testo e immagini: Courtesy of Zawyeh Gallery (Ramallah)
Tayseer Barakat Shoreless Sea Tayseer Barakat Shoreless Sea