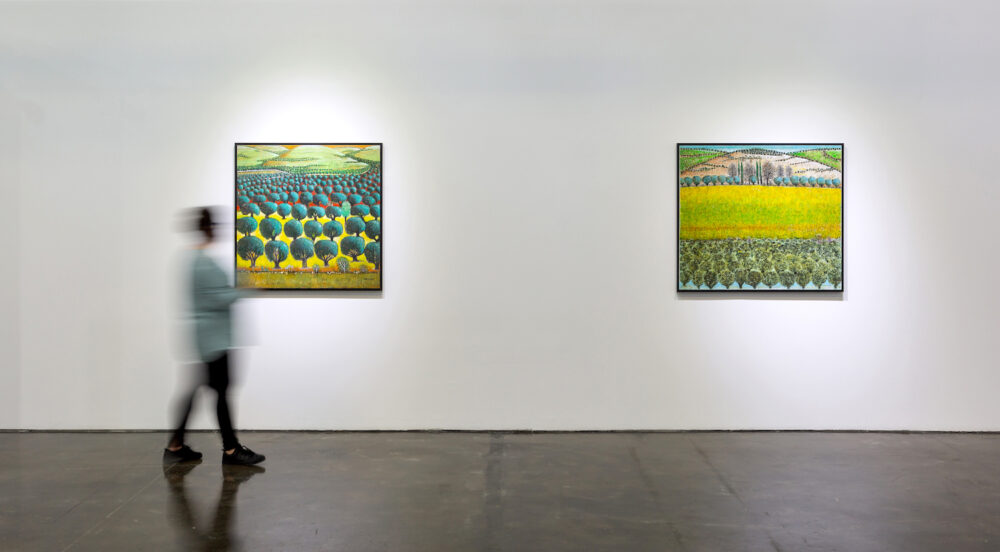 Zawyeh Gallery is an independent Visual Art Gallery founded by Ziad Anani in Ramallah, Palestine, in 2013. Since March 2020, the gallery has expanded by opening in a second location at Alserkal Avenue in Dubai, UAE.
Zawyeh's mission is to promote emerging and established Palestinian and Arab artists through various thematic exhibitions. In the past few years, the gallery organized several solo and collective exhibitions, showcasing artworks based on a variety of mediums, including painting, sculpture, installation, video, and photography.
Zawyeh aims to support young artists and showcase contemporary and modern art internationally through participation in art fairs, exhibitions, and specific art projects. Zawyeh Gallery has participated in a number of art fairs, including Paris Contemporary Art Show P/CAS (2019), MENA Art Brussels (2023), Contemporary Istanbul (2019), Galleries at MAS Abu Dhabi (2019), Art Dubai (2023, 2022, 2021, 2019, 2018, 2017, 2016), Abu Dhabi Art (2022, 2021, 2020, 2019, 2018), and Beirut Art Fair (2018, 2017).
Zawyeh believes in investing in creativity and artistic talents as a way of resilience in the face of adversaries.
In Search of a Portrait by Bashar Khalaf, Dispersed Crowds by Khaled Hourani, Zalameh by Mahdi Baraghithi, Dream-work by Ibrahim Nubani, Weaving and Cracks by Fouad Agbaria, Retrospective by Samir Salameh, Jerusalem: 51 Years of Occupation – Group Exhibition, Fantasy and Freedom by Sager Al Qatil, Out of Place by Hosni Radwan, Metamorphosis by Karim Abu Shakra, Deconstructing the Shape by Zohdy Qadry, Lightness of Being by Tayseer Barakat, Winter Collective – Group Exhibition, Thorns in Bloom by Mohammad Abusal, Intimate Space by Rana Samara, Chaos by Bashir Abu-rabia, The Loud Silence by Ibrahim Al Mozain, Rendezvous by Nabil Anani, Sliman Mansour, and Tayseer Barakat, Crossroads by Samah Shihadi, Holy Land by Taqi Sabateen, Nostalgia to the Light by Fouad Agbaria, Maram III By Shafik Radwan, Narratives – Group Exhibition, Marj Ibn Amer by Rafat Asad, Fragments by Hosni Radwan, Perspectives – Group Exhibition, Art of Memory: Life Before 1948 by Nabil Anani, In Memory – Group Exhibition, Colors of Life – Group Exhibition, Distant Voices by Tayseer Barakat, Portrait of Absence by Amjad Ghannam, and Spaces – Group Exhibitions.