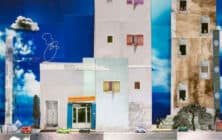 Abu Dhabi Art Fair 2019
Ramallah/ Palestine -18 Nov 2019: Five Palestinian artists participate in Abu Dhabi Art Fair this year, with distinctive old and new artworks within Zawyeh Gallery booth # S15. Wafa Hourani, Khaled Hourani, Nabil Anani, Sliman Mansour and Tayseer Barakat, artworks examine an array of subjects stemming from the Palestinian reality using a wealth of materials, in a reflective, contemplative engagement.
Ziad Anani, director of Zawyeh Gallery, stressed on the importance of bringing knowledge about the Palestinian art to the audience in Abu Dhabi, especially that the art scene in Palestine is one of the most vibrant scenes in the Arab World. Choosing artworks was not an easy task though, he says, "We opted for powerful artworks that are deeply critical of the Palestinian reality yet we wanted to reflect hope too".
While Wafa Hourani's installation structures are futuristic illusionary scenes that represent the socio-political aspects of the Palestinian existence under occupation, Khaled Hournai's appropriations of his previous project "Picasso in Palestine" examine the relationship between art and power questioning along the complications of displaying a famous painting in the exceptional realities of Palestine.
New artworks by prominent artists Nabil Anani and Sliman Mansou are also on display, which represent a return to the use of natural materials ranging from desiccated plants, straw, mud, and other mixed media. Anani's works focus on thriving olive groves that grow in an empty semi-arid landscape in Palestine reflecting the sturdy nature of this plant, an iconic symbol of Palestinians who remain rooted in their land despite adversities. On the other hand, Mansour's artworks create a tension between the rough and smooth as if criticizing the changing nature of the Palestinian people facing a stalemate political situation yet suggesting that the current situation is transient and better times are yet to come.
In an attempt to make a connection with the wealth of artistic practices from the past, Zawyeh presents a collection of Tayseer Barakat's wooden work from the 1990s which attempts at examining details of life in Jabalia refugee camp in Gaza through a prolonged detailed visual memoir.
———————————
Zawyeh Gallery @ Booth # S15
Art Abu Dhabi 21-23 Nov, at Manarat Al Saadiyat, 2 pm to 9 pm
Abu Dhabi Palestinian Artists