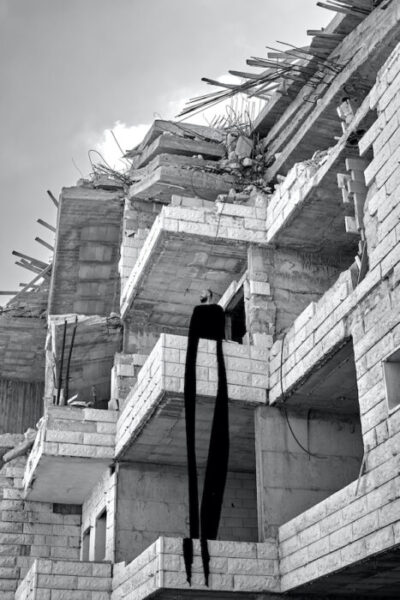 RAMALLAH ART FAIR (2nd Edition)
06 DECEMBER 2021 - 15 FEBRUARY 2022
After the success of the first edition last year, Zawyeh Gallery launched 6 December 2021 the second edition of Ramallah Art Fair. This year the show is organized with wider participation among artists. The art fair includes over 150 artworks; some were created recently or produced specifically for the fair by over 30 Palestinian artists living in Palestine and the diaspora, in addition to artists from the occupied Syrian Golan, an artist from Turkey. The artworks deal with different topics; some are stemmed from the Palestinian reality using a wide range of materials. One of the main features that the fair maintains this year is exhibiting the works of young artists, side-by-side works for prominent artists.

The main goal of the event is to provide original artworks at reasonable prices for new collectors to enjoy Palestinian art. The art fair is a rare opportunity that gives glimpses on the new art production mainly in Palestine and allows the audience to read into the new artistic paths and directions that new and prominent artists are embarking on these days.
Participating artists are Sliman Mansour, Nabil Anani, Abed Abdi, Khaled Hourani, Shada Safadi, Tayseer Barakat, Fouad Agbaria, Bashar Alhroub, Yazan Abu Salameh, Ibrahim Mozain, Shafik Radwan, Mahdi Baraghithi, Vera Tamari, Ahed Izhiman, Ahmad Canaan, Akram Al-Halabi, Alaa Attoun, Alaa Albaba, Asad Azi, Ayman Essa, Benji Boyadgian, Dima Hourani, Easam Darawshi, Mohamed Abusal, Nidal Morra, Reem Masri, Ruba Salameh, Saher Nassar, Taqi Spateen, Ikram Awidat, Rafat Asad, and Cem Polat (Turkey).
A variety of subjects are examined in the Art Fair, including people, nature, and habitation. In addition, a wide range of experimentation with art vocabulary using a variety of media. Fictions, myths, and tales are also focal subjects in this exhibition.
Yet, the most prominent theme in this show is the Palestinian landscape and it is being tackled by a large number of artists, each adding their stamp to it. Ahed Izhiman, for example, presents nature through the eyes of Palestinian prisoners transported from one Israeli prison to another in a special military vehicle, called "Bosta". Small holes in the van allow prisoners to see slices of the Palestinian landscape, which Izhiman photographs after tracing the "Bosta" route. While Nabil Anani's works depict Palestinian nature as a utopian place devoid of any colonial manifestations, Taqi Spateen's works contain traces of cement used by the Israeli military as part of the occupation apparatus. The use of materials varies in tackling nature; while Rafat Asad uses acrylic on canvas in his series of artworks, Reem Masri applies collage techniques to build colorful nature scenes from several Palestinian villages, while Ikram Awidat weaves her works using colorful threads in celebration of nature in the occupied Golan Heights.
Some artists like Vera Tamari and Ahmad Canaan present the Palestinian landscape in an abstract style, while Easam Darawshi and Fouad Agbaria follow the impressionism school in executing their works. On the other hand, Bashar Alhroub chooses to present the olive tree in his works, in a pop art style, adding a sacred aura to it as a holy symbol. Blue Tailsman, Manaakh (weather), and Humsa (a Bedouin village in the north of Jordan Valley destroyed by Israel) are separate artworks yet connected subjects presented by Khaled Hourani.
Issues relevant to the habitat of artists come out strongly in the Art Fair. While Sliman Mansour paints a Palestinian village using watercolors on paper, Alaa Albaba presents the contradictions of the built-up area in Alamari camp in Ramallah when seen against its surrounding of modern residential areas and commercial buildings appearing in the background. Young emerging artist Yazan Abu Salameh continues to discuss the rapidly changing urban environment as a result of the apartheid wall and its impact on daily life.
In this edition of Ramallah Art Fair, some artists present the process of studying lines, shapes, and colors concerning issues relevant to their contexts. Akram Al Halabi's paperwork are in-depth studies of form, line, and color. He uses black and white degradations to present two series titled Explosion and Robes. Benji Boyadgian's works are also in-depth studies of repetition and error in shapes, lines, and colors inspired by oriental tiles ornamentation. Nidal Morra, on the other hand, presents a study into the Palestinian Keffiyeh, dismantling the colors and shapes. Dima Hourani and Asad Azi are also experimenting with shapes and materials. The Turkish artist Cem Polat presents a series of abstract works constructing multiple colored layers on the surfaces of his works using mixed media on paper.
Fiction, myth, and reality concerning existential and humanistic issues are also tackled in the Art Fair. Alaa Attoun's photographic works titled Scene are surreal and theatric. Shada Safadi also creates surreal creatures in her works titled Bird's Eye. Ruba Salameh on the other hand conducts abstract experiments in her series Creatures of Regression using different materials on wood. Mohammed Abusal presents chromatic presents faces, objects, and different formations that look like primitive creatures in his works. The Eternal by Saher Nassar presents the iconic character of Handala by Naji Al-Ali sarcastically, as it looks like a pink balloon.
Meanwhile, Mahdi Baraghithi deconstructs the concept of masculinity in oriental society by using ready-made materials and collages. Abed Abdi presents Icarus a character from Greek mythology; in his works, he also addresses the tunnel dug by six prisoners recently, and a crack in the wall as he searches for a breeze of freedom and liberation in daily life. Tayseer Barakat figures appear in three artworks in the Art Fair, Mother and Child, Nostalgia, and Belonging. Shafik Radwan and Ayman Essa series of works focus on women as a focal point in their paintings, while Ibrahim Mozain, on the other hand, presents a series discussing the body in its cultural and social context with unusual faint colors.