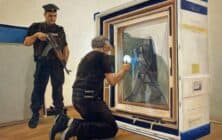 March 25 – March 28, 2020 
Booth E6, Madinat Jumeirah, Dubai, UAE
Zawyeh Gallery participates this year in Art Dubai, with the artworks of two Palestinian artists: Khaled Hourani and Sliman Mansour.  The artworks examine different manifestations of concepts of confinement, borders, and connection in Palestine.
Khaled Hourani participates with works from his early project, "Picasso in Palestine," which was organized in cooperation with the Van Abbemuseum. While, his "Picasso in Palestine #3" (oil on canvas), is a recreation of a photo of Picasso's Buste de Femme (1943), exhibited in Ramallah in 2011, which appears with a Palestinian security guard. His "Picasso in Palestine, New York, 10013 291 Church Street" (Photography), is a reproduction of several layers of "photos of photos\" of guards wearing several national customs guarding eventually a previous photo of the original Picasso painting displayed on the exhibition wall in Ramallah. In the third artwork, a special focus is given to the process of shipping the precious artwork with a touch of sarcasm. In his project Picasso in Palestine, Khaled Hourani originally questioned a complicated loan procedure and endless negotiations between different parties in order to display a famous painting in the exceptionally confined nature of the Palestinian reality. The project took new dimensions as it developed at a later stage when the new reproductions delved further into examining the relationship between art and power.  
In Sliman Mansour's artworks, the combination of areas painted in acrylic colors and areas of cracked mud is focal. This combination of two contrasting materials emphasizes the tension between the roughness of the mud cracks which is dominant, and the contrasting adjacent areas of smoothly painted acrylic colors. Mansour's paintings could be a representation of the stalemate situation in the Palestinian current reality and the changes that permeate the nature of Palestinians as people. His figures as if transforming slowly and discretely from being colorful and vibrant into disintegrated and fragmented characters broken into colorless pieces. Yet, its not all dim and gloomy, his "Temporary Escape" gives some hope that this transformation is only transient.