BOOTH E10
MADINAT JUMEIRAH, DUBAI
Zawyeh Gallery is pleased to take part in Art Dubai 2023, featuring the works of five young artists: Ruba Salameh, Yazan Abu Salameh, Dia Mrad, Saher Nassar, and Giampiero Romano'. The artists delve into the politics and belonging intersecting, raising questions and provoking debate in their own unique ways. Their interventions collectively echo contemporary engagement with increasingly restricted memories and the public sphere.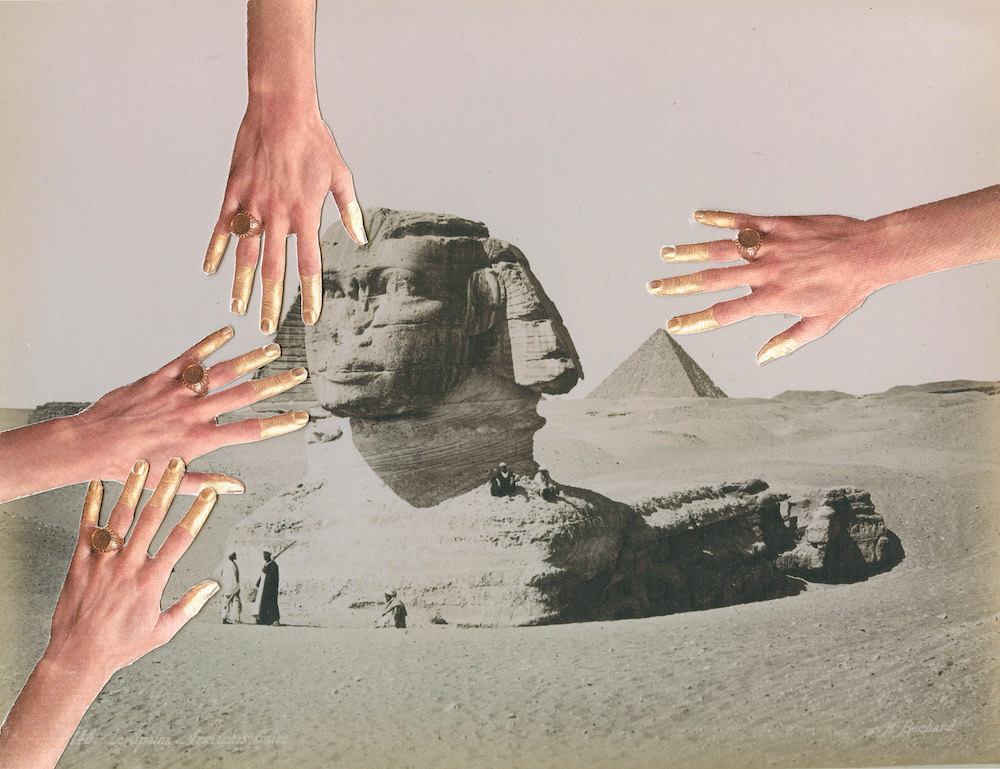 Ruba Salameh creates a variety of endless visual scenarios using collage and mixed media as a technique. Her project was inspired by the fascinating and uncanny dreams of women living in Berlin from repairing the Sphinx's nose to roaming endlessly in the desert in the human body and the head of a horse. The fragmented nature of a collage corresponded metaphorically with the idea of migration and immigration as it is about cutting something from its context and placing it in another. Using commonly used archival images of touristic locations, and daily objects, she weaves striking relationships between the different elements on her surface.
Ruba Salameh is a visual artist who was born in Nazareth in 1985. She obtained both B.A (2006-10) and M.F.A in Fine Arts at Bezalel Academy for Arts and Design in Jerusalem (2012-2014). She works with a variety of me- diums including painting, video and installation.
Through her work Ruba Salameh questions notions of land, geographies, displacement, nationalism, and in-between temporalities, in an attempt to contemplate various scenarios of daily life, which in many cases lead to a state of dystopia, using cynicism and irony as tools for political suspension points.
She participated in several exhibitions including "Limitless" at The Walled Off Hotel, Bethlehem, 2019, curated by Rana Anani; Contemporary Arabesque, Museum of Islamic Art, Jerusalem, 2018; SRINAGAR BIENNALE, Ba- sel, 2018; and "Ghost Dance" Group Exhibition curated by Fadwa Naamna, Haifa, 2017; "Tensegrity", Zawyeh Gallery, Dubai, 2020.
Yazan Abu Salameh explores the production and consumption of cement in the Palestinian case under occupation. In his works, he protests and rejects what has become of the Palestinian towns as a result of occupation; the loss of public and green spaces.
The melancholy of the urban environment and the overwhelming presence of concrete as a byproduct of military occupation overshadows his artworks. He works with ink and collage, creating an effect of sections from the separation wall and other military structures. He presents boxes packed with congested buildings with little white windows as a representation of the densely built-up environment in the Palestinian towns that are restricted from natural expansion. Those boxes are left partly open as if the towns desire to escape confinement. The cardboard texture and colors, build a striking connection between the sun in the sky and these boxes, as well as the separation wall, as if a conversation between these elements is taking place. Abu Salameh uses a variety of mediums and presents circles that act as a magnifying glass, or perhaps an indication of an unstoppable process of urbanization.
Yazan Abu Salamah was born in 1993 in Jerusalem. He studied Fine Arts at Dar Al-Kalima College in Bethlehem in 201. He participated in several workshops, including scenography at Al Quds College in Beit Jala. He taught art at several community centers, including at Aidya Refugee Camp in Bethlehem.
Abu Salameh participated in several group exhibitions in Palestine, Jordan, and the UAE. He won third prize in the competition "Let's make it glow," which allowed him to exhibit in Italy in a group exhibition held by Turin Municipality in 2019. He participated in Art Dubai (2021). His first solo exhibition was held at Zawyeh Gallery, Alserkal Avenue, in Dubai (2021). He lives and works in Bethlehem.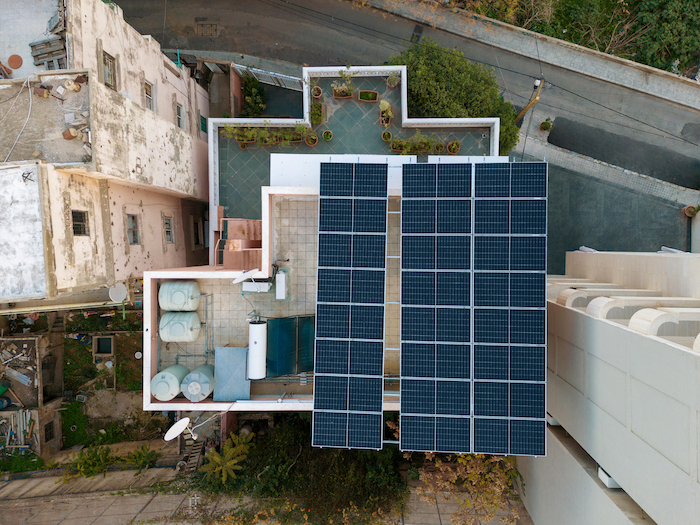 Dia Mrad's work seeks to excavate and document the multilayers of Beirut's economic collapse and employs an ethnographic lens to explore the material manifestations of the crisis across the city's urban fabric. His latest series, Utilities unearths the material infrastructural apparatus that is emerging as a response to socioeconomic conditions; solar panels, water tanks, private generators, and prison-like façades of banks are all elementary fragments of this apparatus.
Already immersed in Beirut's social and urban landscape as an inhabitant and artist, Mrad's work can be classified as an 'ethnography at home' that pushes us to think through objects. Ethnographic fieldwork not only requires its practitioners to engage with people but also with their things. The artist's practice advances this idea further by focusing on the material urban landscape as a site of socio-political and economic phenomena.
Dia Mrad (b. 1991) is a Lebanese visual artist working in the field of photography. He lives and works in Beirut. Mrad graduated in 2017 with a Master's degree in Architecture. Soon after, he started using a mix of photography and academic formation to decipher Beirut's built environment, a subject that intrigued him. He employed strategies he had learned and practiced to produce a fresh perspective on informed/informative architectural photography and visual storytelling.
Dia's works can be found in prominent public and private collections such as Boghossian Foundation (Brussels, Belgium), The Coronet Theatre (London, UK), Barjeel Art Foundation (Sharjah, UAE), A.R.M. Holding (Dubai, UAE), and Dalloul Art Foundation (Beirut, Lebanon).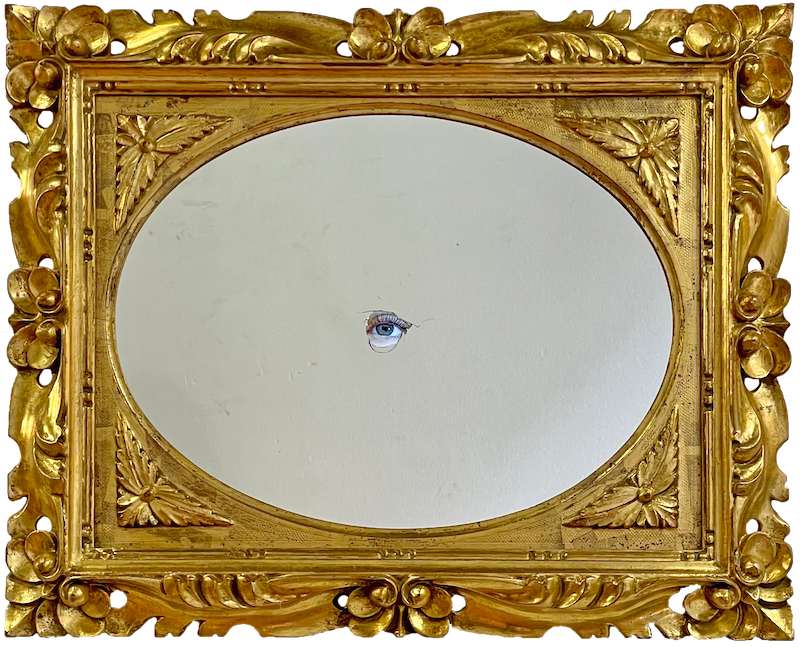 Giampiero Romano' explores and reflects the past through a futuristic lens. His background in restoration and research of antiques for over 20 years contributes to the uniqueness of his artworks. He looks at antiques with the eyes of an artist. His works are interventions in the past with a projection into the future. Romanò adds to the old used pieces a distinctive touch, transforming the objects into whole new entities. By centering his work mainly around mirrors, he carries intimate stories from the past to the present with a steady pace into the future. Presented with uneven frames, the works seem as if each has a life and character of its own, but they are all united in their attempts to break the monotony and uniformity by extending in different directions unpredictably. As the artist states, 'We, the human beings, are the mirror, the element that should give cohesion to the frame, our history.
Giampiero Romanò was born in 1973. He is an artist from Milan who learned his skills through years of dedication and hard work in his workshop, nestled in the bustling heart of the Porta Venezia quarter. For over two decades, Giampiero has devoted himself to research and working with antiques and design pieces. Giampiero collaborated with renowned artists such as Maurizio Cattelan and Pier Paolo Ferrari, lending his unique touch to the display of their famous graphics through the creation of over 100 art pieces that have been exhibited in galleries around the world.
Giampiero's works are based on antique pieces, mostly mirrors and furniture. He produced a number of artworks under the name Antichità 3000, capturing a concept of pushing the boundaries of traditional aesthetic norms. His technical skills, combined with his ironic and visionary approach, is evident in every piece he creates. Giampiero's art is a true testament to his exceptional talent and artistic vision.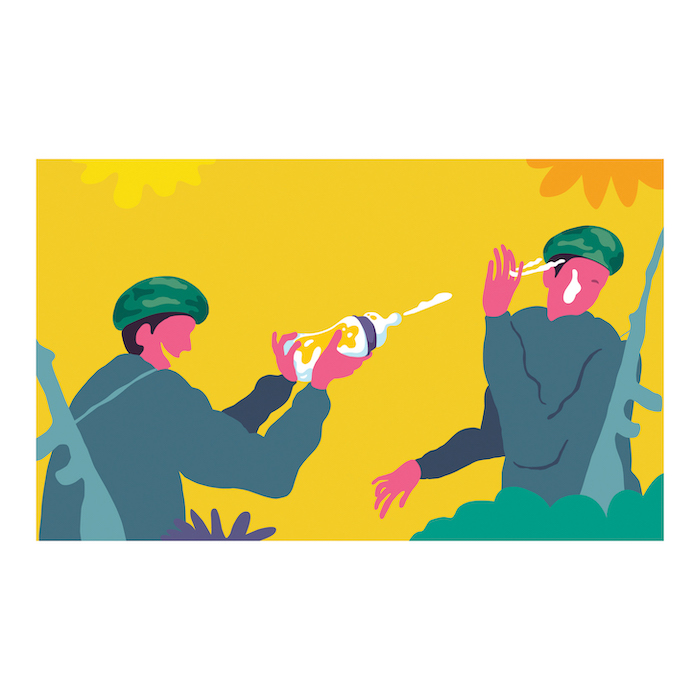 Saher Nassar's series titled Residue is a comic portrayal of tyranny and the abuse of power represented by soldiers. The work reflects an act of childishness amidst exploitation, where the residual innocence of childhood is manifested as a juxtaposition of violence. The mockery and sarcasm propose various takes on the action imposed by the artist.
Saher Nassar was born in Palestine in 1986. Following his graduation from the University of Hertfordshire, England, he started a career in illustration and graphic design, working with various renowned media institutions. It didn't take long before he discovered himself as an artist and embarked on his journey in art. He uses different methods and materials, and his artistic approach varies between conceptual, abstract, and pop art.
He participated in several group exhibitions and was commissioned by Alserkal Avenue (Dubai) and Manarat Al-Saadiyat (Abu Dhabi), amongst others, in the UAE. His current practice is centered around contemporary art, and his artworks tend to discuss various subjects and present social critique in correlation with individual conformity and the status quo.
Nassar participated in several art projects and exhibitions, including a group show at Satellite Gallery, Dubai, UAE (2017), a group show, at Tashkeel Hub Gallery, Dubai, UAE (2018) in addition to commissions by DIFC, Dubai (2019), Emaar Foundry, Dubai (2019), and BMW, Dubai (2019). His first solo exhibition was held at Zawyeh Gallery, Dubai (2021).