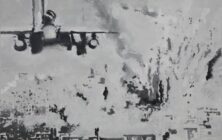 March 21 – March 24, 2018
Madinat Jumeirah, Dubai
In This is How I saw Gaza, Palestinian artist Aissa Deebi investigates factors impacting his relationship with his homeland. The work consists of a series of paintings that probe the distance between exile and homeland using photographs of broadcasted news as a primary visual reference. Using ink on paper and oil on canvas, the mesmerizing works project a high degree of representational verisimilitude techniques.
Deebi – from Haifa and is currently Geneva-based – presents a body of work that centers around his exile and relationship with Gaza through popular newscasts. The artist who has been repeatedly refused permission to visit Gaza by the Israeli authorities, depicts explosions, destruction, ordnance, and ruins of buildings protruding from black smoke. This is not how he saw Gaza with his eyes but how he was forced to see it through television screens in exile – clinical and dehumanizing portrayals of repeated military attacks on an imprisoned and subjugated civilian population. Deebi\'s work is a stark reminder of the continued vulnerability of the Palestinian refugee population, seventy years after their dispossession.

Aissa Deebi is a Palestinian artist and scholar based in Geneva. His early work investigated the complexity of daily practices in post-1948 Palestine: Days like this (1997); Makkan (1998); My Dream House (1999); Nothing is New Only Forgotten (2000). Following this, Deebi tackled the theme of immigration and alienation, which culminated in his Ph.D. research, providing critical analysis of Diaspora as a creative space. In tandem with his scholarly work, Deebi produced a body of works that interrogate the complex phenomena of cultural-migration and Diaspora reality as experienced by an adult Palestinian-immigrant artist in post Sept 11 America: Killing Time (2004); Naked Heroes (2003); Dead Sweet (2004) and more recently Tal El Samak (2011).
Aissa Deebi Art Dubai Aissa Deebi Art Dubai
Works available by Aissa Deebi via Artsy
For inquiries and questions, contact us