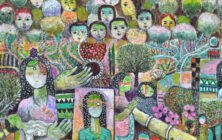 Nabil Anani
(b. 1943, Latroun, Palestine) Nabil Anani is a key founder of the contemporary Palestinian art movement. Anani studied Fine Art at Alexandria University, Egypt, in 1969. On his return to Palestine, he began a career as an artist and an art teacher-trainer at the UN college in Ramallah. Anani held his first exhibition in Jerusalem in 1972 and has since exhibited widely in solo and group shows in Europe, North America, the Middle East, North Africa, and Japan. His works can be found in many museums and private collections.
As a multi-talented artist, Anani is a painter, ceramicist, and sculptor. He pioneered the use of local media such as leather, henna, natural dyes, paper-mâché, wood, beads and copper, and other materials. Over the past four decades, he has built an impressive catalogue of outstanding, innovative, and unique art. Anani is also the co-author of a number of books on Palestinian arts and folklore. He was awarded the first Palestinian National Prize for Visual Art in 1997 by Yasser Arafat. He was the head of the League of Palestinian Artists and played a key role in the establishment of the first International Academy of Fine Art in Palestine. In 2006, Anani was awarded the prestigious King Abdallah II Arab World Prize for Fine Art. He lives and works in Ramallah, Palestine.
Anani's work can be found in international private and public collections, including the Guggenheim Museum (Abu Dhabi, UAE), Mathaf, Arab Museum of Modern Art (Doha, Qatar), Institut du Monde Arabe (Paris, France), Jordan National Museum (Amman, Jordan), Barjeel Art Foundation (Sharjah, UAE), Darat Al Funun (Amman, Jordan), Salama Bint Hamdan Al Nahyan Foundation (Abu Dhabi, UAE), Dar El-Nimer (Beirut, Lebanon), Birzeit University Museum (Birzeit, Palestine), Abu Dhabi Music and Arts Foundation (Abu Dhabi, UAE), and The Agha Khan Museum (Toronto, Canada).