Bending Toward the Sun by Yazan Abu Salameh at Zawyeh Gallery, Dubai | Ramallah
tracing boundaries bashar alhroub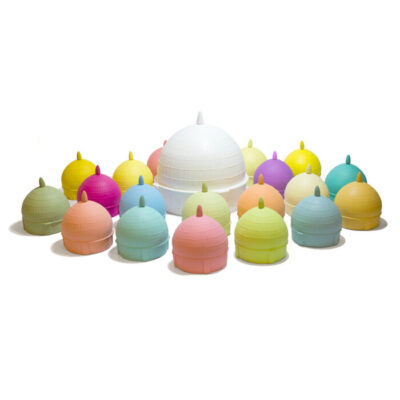 TRACING BOUNDARIES | BASHAR ALHROUB
14 NOVEMBER 2022 - 5 JANUARY 2023 
DUBAI


In this exhibition, Alhroub packages the city of Jerusalem as a religious symbol and reinvents it as a pop culture subject. He traces the boundaries between holiness and material culture and invites the visitor to observe a fine line between religion and commercial clutter.
Bashar Alhroub is a Ramallah-based Palestinian artist renowned for using a variety of materials and forms focusing on Sufi themes. Tracing Boundaries is a combination of installation, sculpture, drawing, and silkscreen printing. His works emphasize the holiness of the city of Jerusalem and its proximity to the heavens. In several works, the skies look golden or as if heaven's gates are opening. He uses the two-winged horse known as "Borak" believed to have carried prophet Mohammad to the heavens, in several artworks emphasizing the notion.
At the center of this project is a four-meter-tall installation representing a façade resembling a real one at the Dome of the Rock holy compound. The scale of this installation creates an impact and gives the exhibition a holy mystique aspect despite the subtle criticism that lies between its folds.
Emphasizing the holiness of the city of Jerusalem and its closeness to the heavens form one part of the exhibition. The artist presents in the other part several ceramic sculptures of the Dome of the Rock, made on a small scale in different colors. Those sculptures question the relationships formed between religious sites as holy symbols and religion as a commodity in a highly commercialized competing market. The ceramic sculptures represent mass production that suits different tastes. Sarcastically, Alhroub's Dome of the Rock's sculptures bring to mind the cheap traditional plastic kids' piggy bank for coin collecting that can be found in popular stores around Palestine. The similarity between the two objects is stunning and opens a new level of discussion about the commercialization of religion to get to the masses.
A series of drawings made with ink on rice paper presents a large number of small figures swimming or moving around in an empty space following a golden figure. This series explores the fine line between the individual and the crowd. The golden element used to highlight one individual in the drawings contemplates the uniqueness of individuals while posing questions about the significance of the individual versus the collective. It probes what makes an individual different than another in the same crowd.
Alhroub was born in Jerusalem in 1978. He works with a variety of media, including photography, video installation, and paintings. His work directly deals with the polemics of a place, questioning its role in humanity and its influence on creativity. His work is deeply influenced by socio-political sentiments.