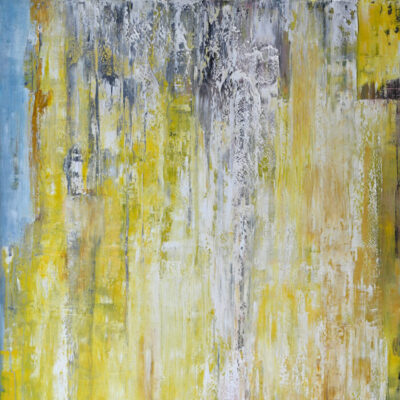 THROUGH THE COLOR TERRAIN
OSAMA SAID
15 JANUARY - 26 FEBRUARY 2022
In his solo exhibition Through the Color Terrain, Osama Said presents a series of abstract works where he mixes reality with illusion depicting fleeting images and emotional memory. He explores colors, textures, and light, using predominantly tones of blue, red, purple, and yellow. 
Influenced by German expressionists, Said's style has been a mixture between expressionism and abstraction. In this exhibition, he follows a terrain of colors, presenting abstract works that could be viewed as mere experimentations, although a closer look shows more details. Said's works are stemmed from memory; they are a recollection of reminiscence from the past. Throughout his career as an artist, he explored themes of memory and forgetfulness, identity and alienation, illusion and reality, especially when he lived in Germany for 16 years. He imagined home and family and did not stop producing artworks inspired by his homeland. 
In his works, one can see or imagine skies, seas or pouring rain, hidden faces, and shadows of people here and there. The details in the artworks are hidden and can be spotted sometimes between bold colors and lines or in the far background; a wall or a fence descending downhill and what might be houses or fields or a neighborhood under the scorching sun. 
With wide brush strokes, Said embarks on a journey of exploration of color. Matisse once said, "The chief function of color should be to serve expression as well as possible. I put down my tones without a preconceived plan. If at first, and perhaps without my having been conscious of it, one tone has particularly seduced or caught me."
Along with this concept, Said deals with colors. He departs from reality using unique visual language. Blues dominate his paintings while yellows, fiery reds, and purples manifest on his canvases, yet not in the same manner. The color leads him through the canvas to serve expression. In his mind, colors have an abstract aesthetic function; therefore, he executes his works using unrestrained high intense colors, painting broad areas with free, spontaneous brushwork and generous paint application, capturing the essence of memory rather than its details.
His bold strokes and unique composition of light create a special ambiance, a kind of passage that can be spotted between the colors and the bold brushstrokes. It is a parallel universe that appears between his fleeting images. Through the striking colors, he creates a sort of cavity or a secret passage that leads to a third concealed dimension or a hidden illusionary world. Perhaps a world from memory that he presents in a blurred manner.
His artworks are enveloped with an intimate atmosphere reflecting light at times, beauty, and harmony at others, capturing the movement of faded subjects that appear elusively in the background. He connects with the unnatural nature of his subjects, coming very close to pure abstraction. Said's journey through the color terrain is an aesthetic party and an enjoyable visual experience.