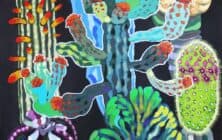 Mohamed Abusal (b. 1976, Gaza) began his career with daring and intensity, coming onto the scene in 2000 with a rush of work that has yet to cease. In 2005 Abusal was awarded the Charles Asprey Prize for Contemporary Art, and his works continue to garner critical attention. Though his style has been refined through self-study and a number of international workshops, Abusal's works retain their early urgent edge.

At play in Abusal's projects –which variously combine installation, video, photography, and painted works—are questions of technology and the permissible. He mixes the fantastic with every day, always with the aim of critical commentary on contemporary life in his native Gaza.

Abusal has exhibited at Al-Mamal Foundation in Jerusalem and the French Institute in Gaza, Ramallah, and Nablus. Outside of Palestine, Abusal has had several solo exhibitions in France, the US, the UK, Australia, and Dubai. He is a co-founder of the contemporary art collective, Eltiqa.