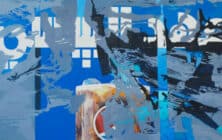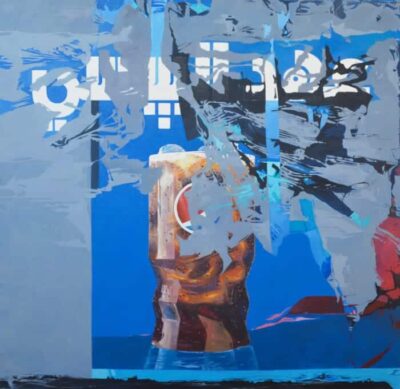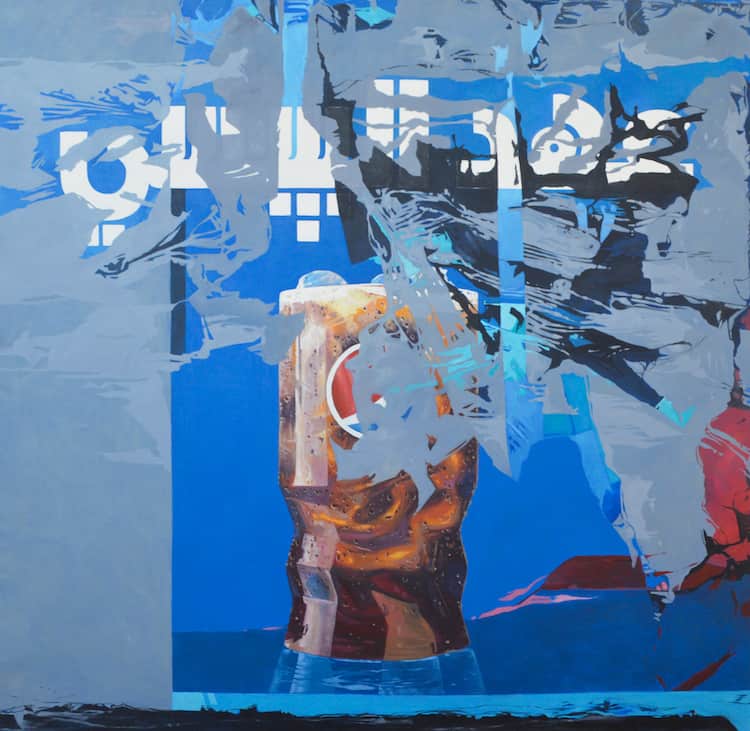 IN SEARCH OF A PORTRAIT
BASHAR KHALAF
12 OCTOBER - 12 DECEMBER 2019
In his solo exhibition In Search of a Portrait, Bashar Khalaf embarks on a personal journey examining the transformations in two eras in Palestinian history by focusing on popular visual symbols and their related connotations at different times. Yet, in parallel, he searches for his role as an artist at a time the Palestinian Cause experiences major transformations not only in terms of the lack of internal vision and solid political positions but also in terms of the ambiguity in artists' stances in relation to art and the cause itself. Khalaf experiments with a variety of materials and presents his works in five different sets each examining a different visual form, including a set that digs into his own portrait.  
Khalaf examines posters on the walls of the cities where the new are glued on top of the old in a chaotic struggle between messages that are being imposed on the passersby. This series consists of ripped posters with corrosive layers, reflecting the chaos left behind. Elements of national symbols such as kuffiyeh are mixed with bottles of coke and images of martyrs with controversial commercial messages capitalizing on nationalistic feelings. In this sense, his second series that discusses billboards is similar in its critical content yet bigger in format, attempting to create billboards representing the idol. For example, he criticizes the advertisement of a football team who is named "Fida'i" (freedom fighter) and sponsored by a commercial company. The company strips the word from its sacredness, attempting to achieve promotion and better revenue, mixing patriotism with commercialism as part of the chaos that is distinct from this current era.
Bashar Khalaf uses a variety of materials in this exhibition, including wallpaper and Plexiglass. He experiments with the concepts of disappearance versus presence and intimacy versus destruction, bringing to mind the daily scenery of destroyed houses that leave behind remnants of colorful walls in the middle of the rubble. He uses flower patterns from the wallpaper that cover the walls and turns them into wreaths that gradually disappear as if they are witnesses to the death of the houses and the lives of their inhabitants. The disappearance and presence take a different turn in his fourth series as he focuses on a  fading masked man with kuffiyeh on his head, carved on plexiglass in series. The image was originally stenciled on walls in different cities. What is the meaning of writing on the walls at these times, when its easy to do so? How is this compared to writing on the walls at the times of Intifada, when people did it secretly, risking their lives? Yet, for him, the images on the walls in the past resonated with people longer even though they were forced to remove it at once, while the ones we see now don't, and they join the bold chaos in the streets and are part of the overall havoc.   
The last set of works illustrates Bashar Khalaf's own experience of disappearance and attendance. In this set, he examines his role as a young artist living in an occupied land. Is his role limited to uncovering what has disappeared from the daily scene? Or is it representing the street and what it has become of it these days? What connects him to the street as an artist anyway? His experiments lead him to a clearer vision of himself as an artist. He reformulates the last set of artworks to reflect his personal image that is composed of appearance and disappearance, drawing and erasure… and other mixed materials.