Asad Azi Palestinian Artist Asad Azi Palestinian Artist
Artist Biography
Asad Azi was born in Shafa Amr in 1955. In his youth he began to create figurative sculptures influenced by the art of the Near East. He studied in a high school in Kiryat Ata. In the 1970s he published three books of poetry. In the second half of the decade he studied art at the University of Haifa. During this period he worked primarily in stone sculpture. After finishing his studies he went to study in Carrara, Italy and later to Nigeria. In 1981 he moved to Tel Aviv. He was one of the founders of the group "Rega" [Moment]. In 1982 he was involved in the strike by the Druze population in the Golan Heights and was one of the implementers of the first festival of "The Center for the Palestinian Heritage" in Taibe. In 1986 he represented Palestine in the Venice Biennale. 
From the 1980s on, Asad Azi has worked primarily in the medium of painting. His figurative works deal primarily with the concept of self-identity in the expressive style. In his work he combines images and connections from the history of European art with folkloristic images taken from Druze society. Azi has published many articles and studies in the local Arabic newspapers and has received several awards. He has set up more than 17 solo exhibitions and has participated in more than 50 collective exhibitions locally and internationally. He currently lives and teaches art in Yaffa.
Blending cultural and historical references, media and techniques, Asad Azi's  intricate works reflect a search for his own identity, as well as that of his community. At the same time, he advocates a humanistic and universal culture. Asad Azi chose to expand the span of his work by allying the West to his own culture.  The result is a complex and intense body of work that blends references, media and techniques, where every line and shape has meaning. In his intricate, richly colored and multi-layered works, Azi investigates the mundane and the dramatic, the secular and the sacred. Using traces from the past, like photographs and objects, the artist reveals the forgotten history of people and places. Azi's works are sometimes presented in pairs, regardless of their date of creation. The works dialogue with one another, addressing questions and references, pointing the viewer to the multiple layers and references. While initially they have a pleasant, almost decorative appearance, the artist in fact juxtaposes Middle Eastern and European references and patterns to tell us significant stories that ultimately relate to universal issues: identity, love, death, spirituality.
Asad Azi Palestinian Artist Asad Azi Palestinian Artist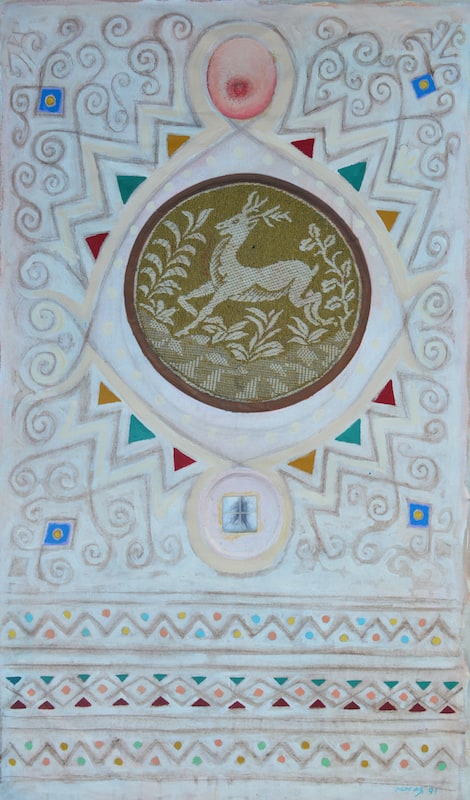 Art Fairs and Exhibitions featuring Asad Azi
Further Information:
Works available by Asad Azi via Artsy
For inquiries and questions contact us