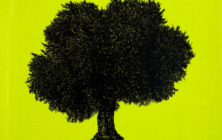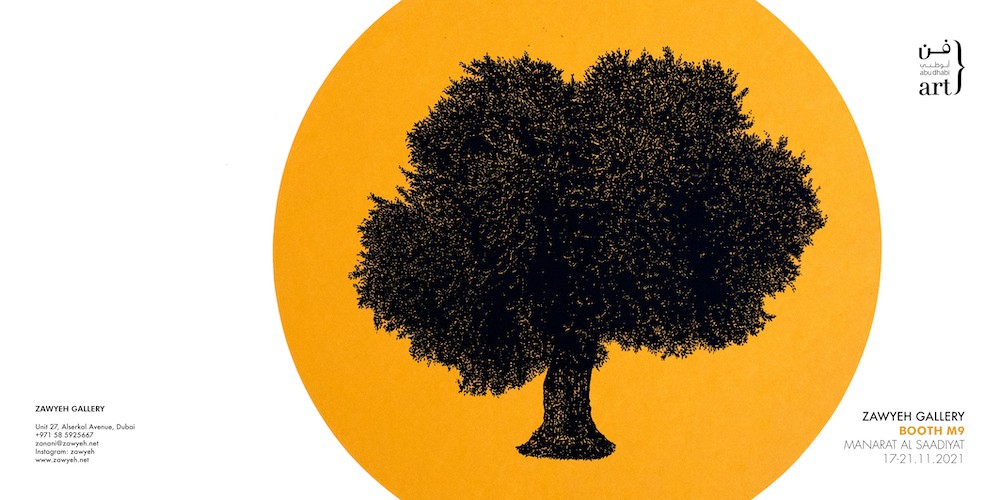 Zawyeh Gallery at Abu Dhabi Art 2021
17 –  21 November 2021 Booth M9
Palestine is imagined in Palestinian art through various visual representations. While many of those representations maintain their presence throughout the years, such as the "olive tree" and "the city of Jerusalem," fresh icons make new appearances, such as the "watermelon."
Zawyeh
showcases works by seven Palestinian
artists
at
Abu Dhabi Art
this year:
Bashar Alhroub
,
Hosni Radwan
,
Isam Bader
,
Khaled Hourani
,
Nabil Anani
, Samir Salameh, and
Tayseer Barakat
. The works are visual representations of icons portraying Palestine, the yearning for freedom whilst offering at some instances, a critique of the political impasse. Bashar Alhroub's artworks revolve around the holiness of the olive tree as a political symbol and as a representation of the Palestinian people and the Palestinian question. By presenting the olive tree as a pop art icon, Alhroub strips the tree of its holiness and presents it within the popular and mass culture that it belongs to. Jerusalem is the focus of Hosni Radwan's artworks. Using charcoal, acrylic, and gold leaf on canvas, he attempts to reveal the contradictions of the holy city. We see in one word, 'Lost City 2', a half dark and a half colorful canvas, while in 'Lost City 1', he divides the image of the city into shuffled blocks, resembling a puzzle that needs re-arrangement. The Late Samir Salameh's (1944 – 2018) artwork on view is also an abstract of what looks like the old city of Jerusalem during a sunset scene. The shades of red permeate the canvas, which presents old arches against a background of what looks like Israeli high-rise buildings. The exhibition also showcases artworks that celebrate the Palestinian nature. In 'Fabric of Land 1 & 2', Nabil Anani observes the landscape through paintings illustrating terraces of the Palestinian hills with trees of various shapes and colors. He also presents a work titled Childhood Memory of a Nightstand (2021), a colorful object that looks more of a wonder box than a nightstand. The work can be viewed from different sides, each telling a different story. Tayseer Barakat, on the other hand, manages to create a haven of conversations between figures appearing in his artworks. The figures look like ghosts of men, women, and children and appear in motions against a bluish background. Sometimes, they emerge in horizontal windows or square frames with a spiritual aura around them. One can look at the artworks (mixed media on wood) as pages in a book of mystical tales. Based on The Treachery of Images (1929) by the Belgian surrealist painter René Magritte, Hourani's acrylic on canvas works 'This is not a
Watermelon
' are representations of the colors of the Palestinian flag in the form of a watermelon. The series was created based on the historical ban on the use of Palestinian flags by Israelis in the 1970s and 1980s. Artworks carrying the flag colors were illegal, even if they were images of a watermelon. The rare ceramic works by Late Isam Bader (1955 – 2003) inspired by Islamic Art are also on show. The 'Untitled' pieces are made of gold-plated ceramic pottery and date back to the 1990s. Studied in Iraq in the 60s, Bader was famous for working with ceramics with a distinctive style that borrows from Islamic Art.
Download Press Release