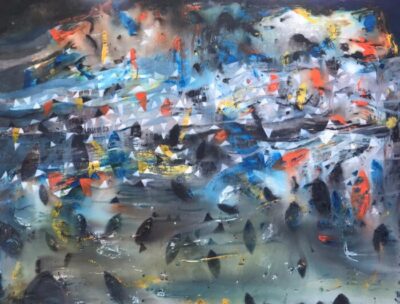 SPIRITUAL PATH BY TAYSEER BARAKAT
13 NOVEMBER 2021 - 8 JANUARY 2022
In Spiritual Path, Tayseer Barakat transcends beyond the materialistic world. He takes a journey to explore people and landscapes through a mystical lens, bringing an extraordinary dimension to his art. Barakat whose style reminds of prehistoric cave art uses acrylic on canvas to create artworks infused with the essence of life.
In this exhibition, he touches upon metaphorical rituals, intimate moments, memories, and magical landscapes. The artworks show his perspective of the world as a spiritual place, and accordingly, they are shaped by deep mystical feelings stemming from a vision of an ideal place he imagines, rather than the actual harsh world of politics, traumas, and injustices that does exist. The exhibition speaks of the relevance of imagining an un-materialistic world in an era dominated by political upheavals and instability.
His characters look like divine beings appearing in sacred auras. Some are hidden around his canvases in tangled lines or around the intricate calligraphy he creates while others dominate the middle of the artworks practicing rituals, dancing, playing music, experiencing intimate moments, or even flying. His figures are ghostly and ethereal with certain fragile and delicate souls. Frames of images from memory occupy a few artworks backgrounds, yet in most of the works, dreamy landscapes dominate. He creates different textures on his canvases, using various techniques, which contribute to infusing the dream-like atmosphere around his characters.
Barakat's series of landscapes in this exhibition are remarkable and unique to Palestinian art. They are surreal and dreamlike. He paints a scene of a village with surrounding nature that looks as if floating on an invisible sea wave; another work illustrates mythical tree groves that stand under black rainy clouds penetrated by sun rays. Small white triangles, that look like magical amulets, spread around the
canvases in these landscapes as if emphasizing the spiritual nature of the worlds he creates. He draws a peaceful village, with small houses lit at night with vibrant yellow in a kind of celebration of life's intimate moments.
Barakat, grew next to the sea in Gaza and has a deep connection with it. This can be seen clearly in some landscape works of the sea; he paints a wild colorful storm on the surface of the sea revealing a small fishing boat struggling on the surface. Shadows of fish swimming in different directions underneath the surface appear while fish with orange color jump out of the water.
Barakat has always taken his art into a spiritual realm, yet in this exhibition, his journey into mysticism is shifting to a deeper sphere.