Artist Biography
Born in the village of Musmus near Umm El Fahm in 1983, Fouad Agbaria is one of the most prominent young Palestinian artists working today. He is part of an important and empowered group of young Palestinian artists who are continually redefining what it means to be Palestinian in historic Palestine.
Agbaria is a fine arts graduate and an award winning student. He attained a bachelor's degree from Bezalel Academy, Jerusalem in 2004 and a master's degree from Haifa University in 2014.
Since completing his undergraduate degree, Agbaria has painted prolifically often experimenting with different styles, techniques and media including charcoal, oil, acrylic and lithography. His catalogue of work to date has dealt with many themes associated with the Palestinian narrative, identity and memory. He has participated in over 20 group exhibitions and has held three solo shows.
Nostalgia to the Light is his latest exhibition which will be held at Zawyeh Gallery, Ramallah, from 24 Oct. – 7 Nov. 2015. Agbaria showcases his recent works under three broad themes. In a series of oil paintings, once again Agbaria journeys to his early childhood and life in his home village. Exquisite Post-Impressionest style paintings depict simple rural pastimes, much of which have been lost but remain foremost in Agbaria's memory. The classic Palestinian symbol of the cactus – or Sabra – is central to Agbaria's work and his latest paintings are homage to Palestinian survival and rebirth.
Nostalgia to the Light also showcases Agbaria's latest project celebrating the Arabic script. In this new chapter, Agbaria engages and experiments with script, drawing on this very important part of his cultural inheritance. Darwish's poetry, Quranic verses and personal philosophical meditations adorn each piece. Demonstrating great skill and equilibrium, his innovative use of colour perfectly illuminate his works.
Available Works (Selected)
Exhibitions featuring Fouad Agbaria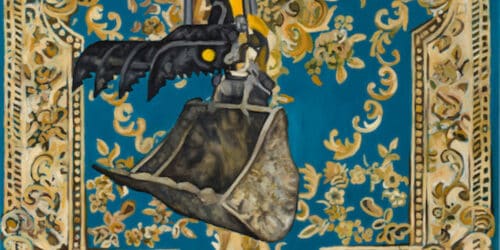 September 20 – September 23 , 2018
Beirut International Exhibition & Leisure Center
and
September 15 – October 18, 2018
Zawyeh Gallery