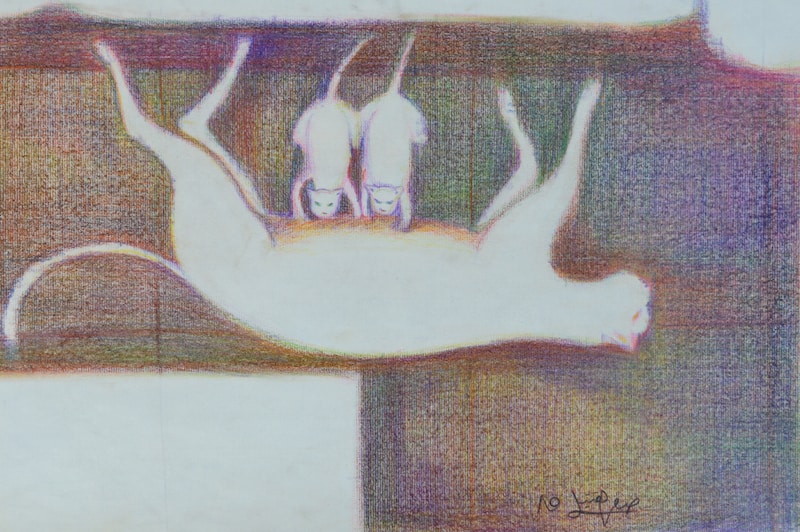 FANTASY AND FREEDOM 
SAGER AL QATIL
28 FEBRUARY - 4 APRIL 2018
Zawyeh Gallery is pleased to present Fantasy and Freedom by the late Palestinian artist, Sager Al Qatil. Thirty rare and precious paintings and drawings are shown for the first time in Ramallah. His unique style and influences are vehemently linked to his childhood memories and early artistic experiences when art was not encouraged and often frowned upon both in school and at home. After leaving school early, like many young Palestinians, he sought menial work in Yafa, often to the detriment of his health. On arrival in Ramallah in the early 1980s, he was finally able to pursue his passion under the tutelage of his friend, the artist Tayseer Barakat. "We worked, played, and rested together. Each summer I would teach him what I had learned at university in winter. Sager was a remarkable artist who left an indelible trace and sadly departed far too early," Barakat painfully reflects.

Nabil Anani remembers Al Qatil as a young man often "racing time," always seeking a balance between his art, work, and family commitments in Gaza. " He was brave with his ideas and courageous with color and symbols," Anani observed. However, jovial Sager seemed tragedy followed him. "I remember the Wasiti Center commissioning him to interview and document the work of the great artist and ceramicist Hanna Musmar, only to arrive at his appointment and discover that Musmar had unexpectedly died that day. Instead of meeting Musmar, Sager ended up attending his funeral," Anani added.

Sliman Mansour remembers Al Qatil as a gentle soul with a disarming smile. "Sager was less concerned about identity and the struggle like many of us artists at the time. His art relied on fantasy and freedom from the constraints of content and form." Al Qatil spent much of his life seeking to break away from the burden of dispossession and trauma experienced by his family and community. His endless quest for freedom both in art and in life led him to The Netherlands, where he unexpectedly passed away in 2004, at the tender age of 45. A week before his death, he called Mansour and spoke of his desire to return home to Palestine. "As someone who craved freedom, he somehow could not break himself free of his homeland," Mansour stated. His gentle spirit, uniqueness, and creativity live on in these remarkable works.