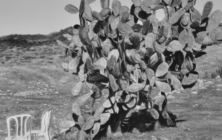 March 21 – March 24, 2018
Madinat Jumeirah, Dubai
Cactus Harvest by Samah Shihadi is a powerful collection of black and white drawings that explore the complex and often distant relationship with an elusive homeland, projecting a high degree of representational verisimilitude techniques. Samah Shihadi investigates factors impacting on her relationship with her ancestral land. The artist focuses on the annual cactus harvest on the land of her destroyed family village of Mi'ar which used to stand in the southern part of the Galilee, Palestine – before being erased in the Nakba of 1948.
Shihadi captures the annual rituals in which whole families would take part – regularly – before their expulsion in 1948. The infamous national Palestinian symbol of the cactus is a reminder of both dispossession and survival. Cactus plants used to demark plots of land plots belonging to village residents. These unique hedgerows are often the only visible reminder of the many hundreds of villages that were destroyed and ethnically cleansed in 1948. Shihadi's paintings often depict the elderly of the village engaging in the harvest, while children innocently play in the emptiness of the land. Her tranquil and dreamlike scenes are often underpinned by painful memories and ongoing family trauma.
Samah has painted for as long as she can remember and having spent seven years studying art, she has emerged as a fine talent who has mastered the art of draughtsmanship.
Samah Shihadi Art Dubai Samah Shihadi Art Dubai