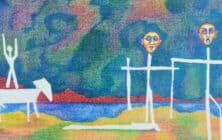 Sager Al Qatil was born in Al Amari Refugee Camp, Ramallah, in 1959 and was raised in Jabalia Refugee Camp in Gaza. After leaving school early, like many young Palestinians, he sought menial work in Yafa, often to the detriment of his health. On arrival in Ramallah in the early 1980s, he was finally able to pursue his passion under the tutelage of his friend, the artist Tayseer Barakat. "We worked, played, and rested together. Each summer, I would teach him what I had learned at university in winter. Sager was a remarkable artist who left an indelible trace and sadly departed far too early," Barakat painfully reflects. A self-taught artist and an early member of The League of Palestinian Artists, he held his first exhibition at Birzeit University in 1985, and this was followed by another solo show at Al Hakwati Theater, Jerusalem in 1986. His unique style and influences are vehemently linked to his childhood memories and early artistic experiences when art was not encouraged and often frowned upon both in school and at home.
Sager Al Qatil participated in a number of exhibitions in Italy, Switzerland, France, Holland, the United States, Belgium, and Egypt. His surrealist work is often described as uncanny, depicting trauma and adverse experiences. Al Qatil died at the young age of 45 in Holland in 2004.
His art relied on fantasy and freedom from the constraints of content and form." Sager Al Qatil spent much of his life seeking to break away from the burden of dispossession and trauma experienced by his family and community. His endless quest for freedom, both in art and in life, led him to The Netherlands, where he unexpectedly passed away in 2004 at the tender age of 45.