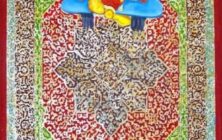 Born in the village of Musmus near Umm El Fahm in 1983, Fouad Agbaria is one of the most prominent young Palestinian artists working today. He is part of an important and empowered group of young Palestinian artists who are continually redefining what it means to be Palestinian in historic Palestine.
Agbaria is a fine arts graduate and an award-winning student. He attained a bachelor's degree from Bezalel Academy, Jerusalem in 2004 and a master's degree from Haifa University in 2014. Agbaria has also been involved in projects intended to raise the profile of the Palestinian population within present-day Israel, such as the Umm el-Fahem Art Gallery and a 2010 pop-up gallery of Palestinian art in the port neighborhood of Jaffa – an area in which historic Palestinian homes have had their past erased by Israel.
Since completing his undergraduate degree, Agbaria has painted prolifically, often experimenting with different styles, techniques, and media, including charcoal, oil, acrylic, and lithography. His catalog of work to date has dealt with many themes associated with the Palestinian narrative, identity, and memory. He has participated in over 20 group exhibitions and has held three solo shows, including the "Roots of Identity" Collective exhibition, Art on 56th, Beirut, Lebanon, 2016; Contemporary Palestinian art, Umm el Fahem gallery, Palestine, 2016; Palestinian Olive Art, Alsraia Gallery, Khan Albasha, Nazareth, Palestine, 2012;  Spring Salon Contemporary Art, Jaffa Port, Palestine, 2012; Bread and Roses, Minshar College of Art, Tel Aviv, Palestine, 2011; and Palestinian Art Salon Jaffa, Jaffa Port, Palestine, 2010.