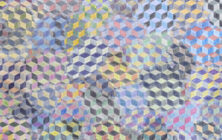 Benji Boyadgian is an artist born in Jerusalem in 1983. He studied architecture at the ENSAPLV School of Architecture (L'Ecole Nationale Supérieure d'Architecture de Paris La Villette), specializing in urban sociology in post-conflict areas. Boyadgian's artistic practice revolves around research-based projects that explore various themes, including perception, memory, territory, architecture, and landscape.
Boyadgian employs multiple artistic mediums in his work, with painting and drawing as his primary tools. He also creates site-specific installations to integrate his art into specific spaces and contexts. His interdisciplinary approach allows him to engage with diverse aspects of his subjects, merging his architectural background with artistic expression.
Boyadgian's exhibitions have been featured in venues around the world. Some of his notable exhibitions include "Little did they know" at EVA International in Limerick (2021), "The Discord" at Al Ma'mal Foundation for Contemporary Art in Jerusalem (2017), "AQUA" at Chateau de Penthes in Geneva and SESC Belenzinho in Sao Paulo (2017), and "Lieux saints partages" at MuCEM in Marseille (2015).
Boyadgian's dedication to his art extends to teaching. He has shared his knowledge and expertise through teaching engagements at various institutions, including the International Art Academy in Birzeit, Dar el Kalima in Bethlehem, and Konstfak in Stockholm. He participated in residencies such as Villa Romana in Florence and the International Artist Residency Program at Istanbul Modern. Benji Boyadgian lives and works in Bethlehem.