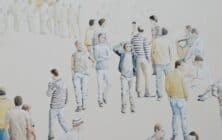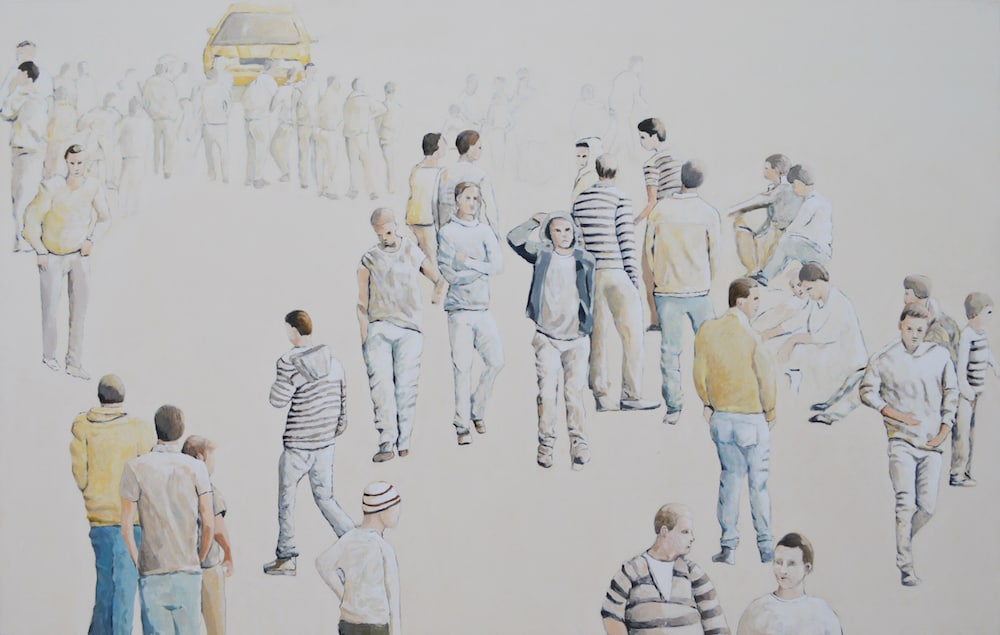 The first Palestinian participation in Art Dubai (16 to 19 March 2016) is bringing the silent crowds witnessing unfolding events in the region to the fore. Zawyeh, established in Ramallah in 2013, is to participate for the first time through a selection of paintings and custom-made sculptures by artist Jawad Al Malhi under the title "Measures of Uncertainty".
The exhibition draws inspiration from hours of observing crowds in the Shufhat Refugee Camp in East Jerusalem, where Al Malhi resides. Agile boys who climb the electricity poles for better vantage points, the street vendor who uses the moment to gain extra customers, the gaze and gestures of the observers and gossipers, all this is choreographed in liminal spaces and symbolic sites of nations' communities.
"I have been watching, for some time now, the recurring spectacle of events across the Arab world, through the TV screen and from my balcony that overlooks my birthplace Shufhat Refugee Camp, home to over 60,000 Palestinian refugees, most of whom were dispossessed from villages and neighborhoods in West Jerusalem during the Nakba of 1948," he says. "Throughout my work, I see myself in a position of a witness interpreting and distilling unrecorded histories of the everyday, through observations that I accumulate over time of people and place. This is an important part of our daily histories but whose is misrepresented by the media," he adds.
Al Malhi, whose family originates from Al Malha, now West Jerusalem, speaks of his body of work, which has evolved over several years, saying, "In my painting series figures appear as if painted in dust, they appear as shadows, in the sculpture they finally take form, however fragile. The sculptures are of everyday people, not monuments to famous individuals, politicians or war heroes, but to the boy who we see on our streets as active protagonists, observers and the disengaged as found in my paintings."
"Measures of Uncertainty" is inspired by Al Malhi's interest in the spatial articulations of crowds, in particular, the time of waiting and how this is inscribed on the body and in relation to each other. "My gaze is drawn to the moments after the crowd starts to disperse. This is a time when exhaustion fills the body, contouring its form along with uncertainty. It is a moment of hesitation, a fleeting moment, where people appear as fragile shells, as though light passes through them, reflecting shadows onto one another."
Ziad Anani, Director and Founder of Zawyeh, says: "We are proud to be the first Palestinian Gallery to participate in this fair. We hope that our participation will bring wider attention to the art scene in Palestine, which continues to thrive despite the ongoing occupation."
Jawad Al Malhi lives and works in East Jerusalem. His work over the years has focused on exploring marginalized communities, practices of everyday life, and their relationship to their environments. Al Malhi received his MA in Fine Art from the Winchester School of Art, UK. His practice spans painting, photography, sculpture video, and site-specific installation. He was shortlisted for the Frieze Foundation Cartier Award and has been nominated for Prix Pictet, and he was among the top shortlisted artists for the Abraaj Capital Prize, Art Dubai, in 2013. His works are held in private and public collections in Europe and the Middle East, including The British Museum, The Imperial War Museum, London, UK, and the Barjeel Collection, UAE.