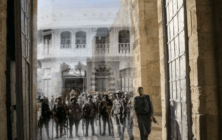 Zawyeh Gallery at Intersect 2021
16 – 22 February 2021
Zawyeh Gallery is excited to announce its participation in Intersect 21, a virtual art fair featuring art, design, and photography by 21 galleries in Southern California, the Middle East, and North Africa.
Exhibiting artists:
Join us for the Opening Event at noon Eastern on February 16; the Opening will feature an introduction and overview by Intersect Art and Design's Managing Director Becca Hoffman, CEO Tim von Gal, and curatorial advisor Rebecca Anne Proctor, followed by notable video highlights from exhibitors and cultural partners. Register HERE to receive information about how to join via Zoom.
Intersect 21 will be live at Intersect2021.com from February 16 through 22, 2021, and on Artsy from February 16 through March 15, 2021.
Intersect 21 Art and Design comprises three art fairs: Intersect Aspen (formerly Art Aspen), Intersect Chicago (formerly SOFA Chicago), and Intersect 21 Palm Springs (formerly Art Palm Springs). Intersect 21 Art and Design's core values include working with integrity, decency, credibility, and transparency. Through art and the diverse voices of our exhibitors and their artists, we encourage discussions that promote social awareness and foster positive change. Intersect is a partnership of brothers Tim and Dirk von Gal, who are event industry veterans with more than 50 years of combined experience creating successful trade shows and conferences for business, consumer, and art industry sectors. The three fairs had been under the umbrella of Tim von Gal's former company Urban Expositions (founded in 1995), which was acquired by Clarion in 2015. The von Gal brothers' launch of Intersect in April 2020 brings the fairs back under their management once again. Intersect 21 is part of vGMgt LLC, a team of dedicated professionals focused on customer service, integrity, and the experiential value of Intersect 21 Art and Design. Managing Director Becca Hoffman, who joined Intersect Art and Design in April 2020, was the Director of the Outsider Art Fair from 2013 – 2020 and was formerly the director of Peter Findlay Gallery and Andrew Edlin Gallery. Hoffman received her B.A. in Fine Art Photography from Dartmouth, where she helped start the first student art gallery and worked at the Hood Museum of Art. From there, Hoffman achieved her M.A. in Contemporary Art at Sotheby's in London.