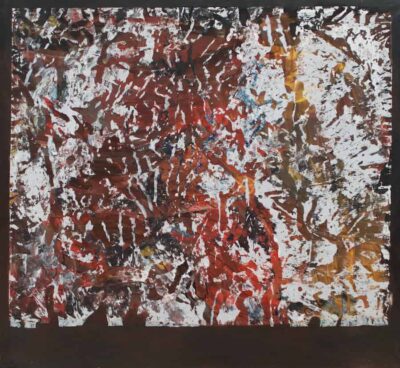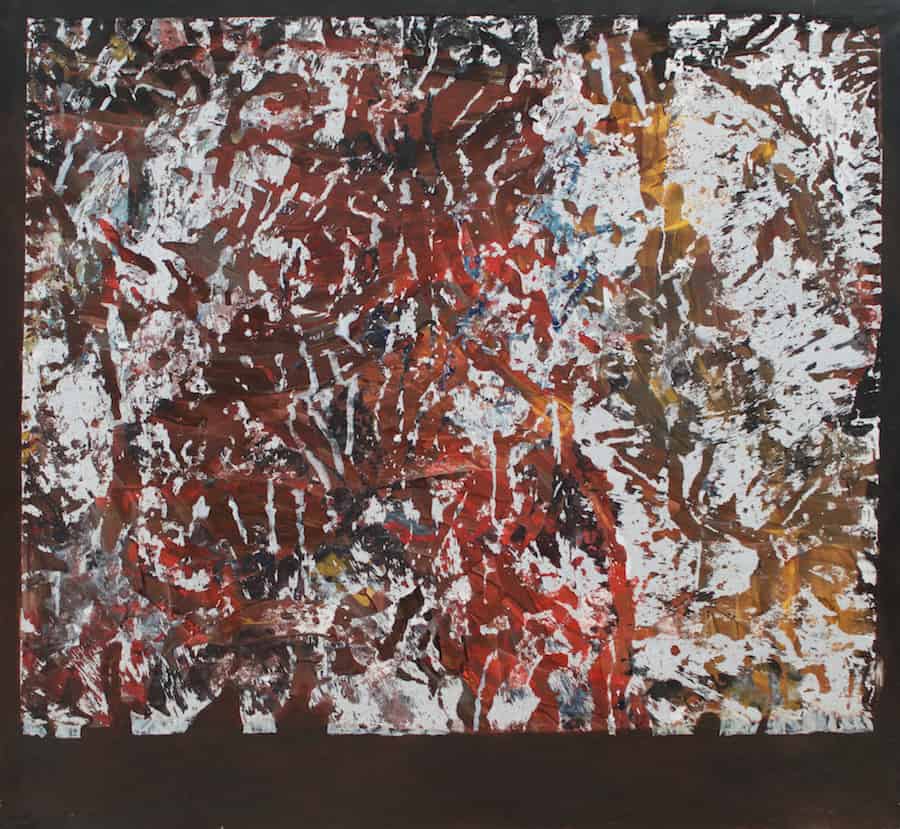 LIGHTNESS OF BEING 
TAYSEER BARAKAT
23 JANUARY - 15 FEBRUARY 2017
Tayseer Barakat's Lightness of Being brings together his most recent work, an extraordinary series of paintings produced over the course of two years. Steeped both in the long history of Arab visual art and mythology and in contemporary aesthetics of political struggle, the collection is a stunning exploration of anger, pain, and endurance.
The paintings are peopled by silhouettes, rendered in a flat style that recalls the ancient art and cave paintings from which Barakat draws, but layered onto each canvas to produce an uncertain depth. Sometimes immersed or obscured by their surroundings, sometimes emerging starkly from them, the figures are buffeted by swirling colors and patterns that repeat insistently across the series. Recurring motifs – walls against which figures are frozen, the bird that perches but is never in flight – further bind a collection of paintings that, though different, share a simultaneous sense of poised immobility and furious struggle.
Here, perhaps, lies the reason for the exhibition's titular connection to Kundera's novel of the 1968 Prague Spring, The Unbearable Lightness of Being. The novel's characters are writers and artists for whom, in the depths of oppression and darkness, existence is revealed as weightless and untethered; the paintings share a certain sense of the fragility of a life lived in the face of despair. Yet, by citing this particular text – an existential Czech novel most celebrated in contested translations or in the American film Kundera rejected – Barakat surely does more than simply acknowledge a philosophical inspiration. His collection plays with references ancient and modern, including repeated jumbles of faded text. But it does not produce a smooth synthesis of styles. Rather, it performs their sometimes difficult interactions, articulating the contested nature of Palestine's place among the global struggles and suffering of the twenty-first century and the ways this may be navigated, or not, by language and by art.