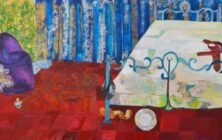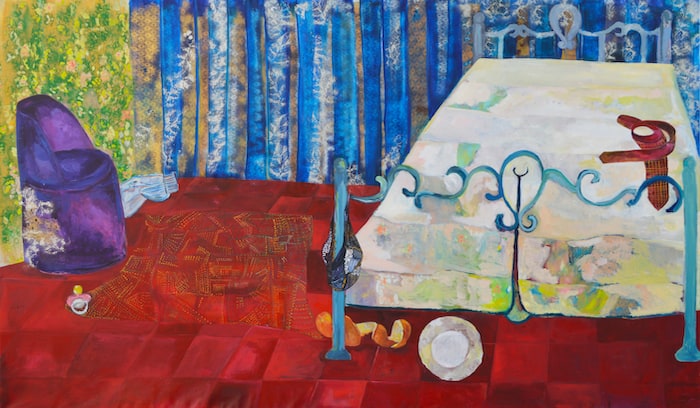 INTIMATE SPACE 
RANA SAMARA
13 AUGUST - 10 SEPTEMBER 2016
"I have always been intrigued by both the stories and untold silences women transfer from one generation to another, in particular from mothers to daughters. Women hide great stories, and if you give them the opportunity, they will make great storytellers. Intimate stories and female wisdom through experience are the inspiration sources for me and my practice. That said, perhaps my own experiences are a latent inspiration too. I grew up in a typical Palestinian family and consequently spent most of my childhood and teenage years observing and analyzing social and gender relations. I came to understand how precious yet also suffocating women's roles as carers and nurturers can be.
"My first academic experience with the visual arts was at the Palestine Technical College in Ramallah, where I completed a two-year diploma in graphic design. However, the program did not fulfill my desire for knowledge. In the theory lectures, we always touched upon Contemporary Art, and it made me want to explore this area in greater depth. I, therefore, applied to the International Academy of Art in Palestine to study BA in Contemporary Visual Arts. It allowed me to develop a broad scope in the understanding and practice of visual arts across the medium of photography, installation, painting, video, social intervention, and theoretical studies.
"Women, gender, and sexual relations comprise the backbone of my work; It all started after a walk in Al-Amari refugee camp, where I began wondering about the sex life of couples living in such condensed spaces that affords them almost no privacy. This privacy is especially difficult to achieve considering the large size of most Palestinian families and the cramped proximity in which neighbors and families live with each other. In my research, I investigate the social contexts of sexuality, in which I rely mostly on my personal relations with various women I met. I have intimate and continuous conversations with them about virginity, intimacy, sexual desire, gender norms, their convictions and relationships, and roles vis à vis the younger generations, and these conversations form the cornerstone of my research for my practice in which I utilize various forms including painting, video, installation and also embroidery. My practice currently focuses on painting, both for the potential of the medium as well as its historical references and contexts.
Intimate Space focuses on the question of women's bedrooms, which reflect a woman's social class, sexual life, the amount of privacy they have, and at times can even resemble a crime scene. I explore the question of where we are positioned as a viewer of these rooms and how through voyeuristically intruding on the scene, we are able to sense the lives of the women who inhabit and perform their sexuality in these rooms and the relationship between place and social norms. Currently, I am working on a body of work that focuses on the question of virginity. As Palestinian society is predominantly conservative, virginity is extremely important and proof of it is still sought by the groom's family. This proof usually takes the form of a blood-stained handkerchief that is shown to the women in the family after the wedding night. For this project, I gave 50 handkerchiefs to different men and women and asked them to embroider upon them their views and understanding of this longstanding tradition. Working across different mediums and forms enables me to explore intimate and taboo questions of female sexuality in my society.
"My recent research moves these above questions into the realm of public space and how it can become an intimate space within seconds. I wonder what kind of intimate situations are born in space and how many stories there are to share, and I am keen to explore how this manifests in different places, contexts, and corners of public space.
"Since my graduation last year from the International Academy of Art in Palestine, I have continued to work on the above-mentioned themes in my artwork. I have recently showcased two of my artworks at the French-German cultural center in Ramallah in the exhibition "Disrupted Intimacies" which brought together a selection of artworks from the graduates of the International Academy of Art for the first time. The selected artworks focused on the above-mentioned conversations I had with women on the subject of social taboos – female sexuality, virginity, intimacy, sexual desire, and gender norms – and these were shown through the medium of a large-scale painting of domestic spaces.