August 13 – September 10, 2016
Zawyeh Gallery
There's a new artist that's turning heads in the Palestinian contemporary art scene. Rana Samara paints Palestinian bedrooms — post-sex.
It's a bold departure from the usual Palestinian artistic tropes — the olive trees of the West Bank, the trappings of traditional Palestinian heritage, the scenes of exile, war and Israeli military occupation.
"We have a lot of Palestinian artists that work on the Palestinian struggle … but Rana's works are different," said Ziad Anani, owner of Zawyeh Gallery in Ramallah, where Samara's paintings are receiving their first professional exhibition. "She likes the intimate space."
Samara, a 30-year-old mother of three and a recent graduate of the International Academy of Art Palestine in Ramallah, paints in the style of Matisse or David Hockney — big colourful still-life portraits. In one, an orange peel has fallen on the floor next to the bed, and underwear hangs from the bedpost.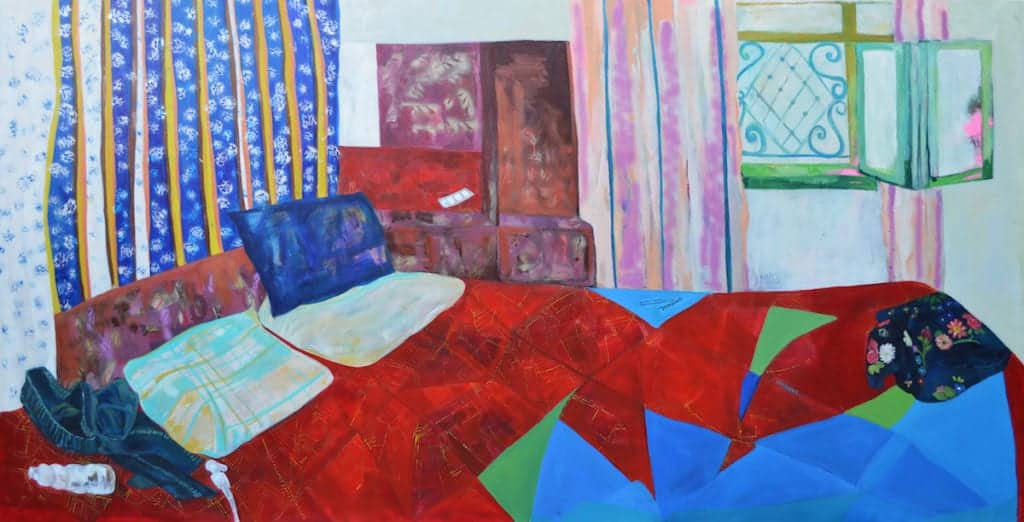 Samara, who's based in Ramallah, became interested in scenes of intimacy as a second-year art student, after she visited a friend living in a West Bank refugee camp.
"I stopped in the front of the camp and I started questioning like, how did people make sex? How did they sleep together?" Samara said.
There's very little privacy in West Bank refugee camps, crowded concrete shantytowns where Palestinians ended up after they were uprooted from their homes in the 1948 war that led to Israel's founding.
"Then I started to meet women in the camp and ask them the question, how did you sleep with your husband? It's a horrible space, because the buildings (are) next to each other," Samara said. "One woman told me that her husband put his hand in her mouth to keep her voice down."
She interviewed women in refugee camps and elsewhere in the West Bank about marital intimacy. Some women would invite her to come to their homes after they had slept with their partners; Samara would take photographs of the room as inspiration for her paintings.
One painting shows a pack of Viagra in the corner. In another one, she painted the patterns from the lingerie of a woman she interviewed.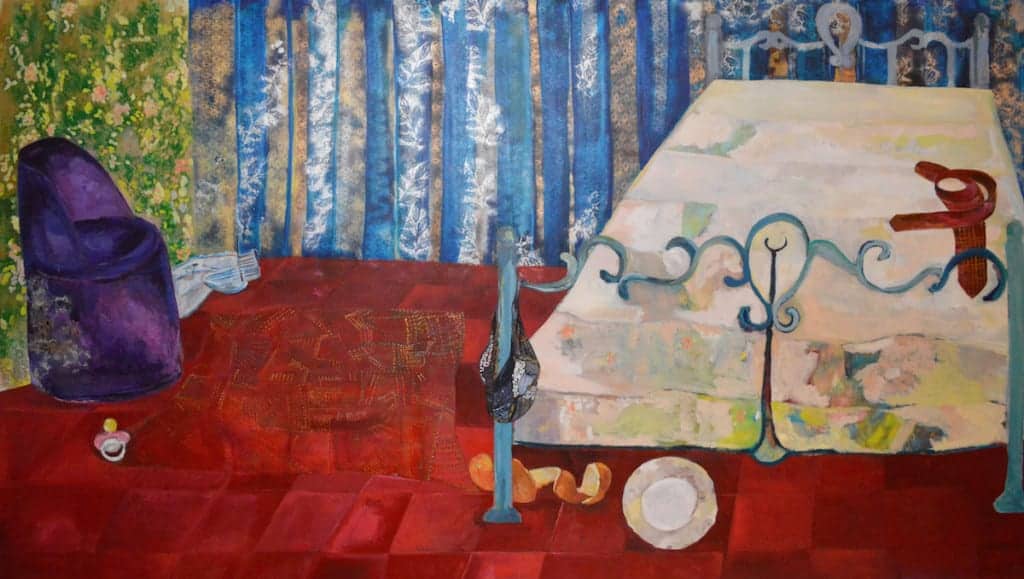 Some of her Palestinian artist colleagues tell her she should be painting about more crucial things, like the Israeli separation barrier in the West Bank, she said.
"Many artists, like, give you critique. 'You are a woman. Why do you want to talk about sex? We are Palestinians. … Sex, I think, it's last thing we should talk about.' Why? Why [is it] not an issue?" Samara said. "Yeah, it's an issue. We can talk about it. But I think I talk about it in a polite way. Not in a very rude way."
While Samara is breaking taboos as a Palestinian female artist dealing with such intimate subject matter, it did not seem to faze people at the opening at Zawyeh Gallery. It's the first of three contemporary art galleries to be established in the West Bank in the past few years, part of a growing effort to market Palestinian artists to collectors in the West Bank and around the world. The works of other established and emerging local artists are on exhibit at the gallery, too.
It was an impressive turnout at the opening. Among those there were Palestinian politician Hanan Ashrawi and a prominent Palestinian businessman and his wife who are contemporary art collectors. There were pastries and wine.
Another artist, Juhaina Habibi Kandalaft, exhibited paintings featuring women in traditional embroidered dress. Her works reflect Palestinian pride and nostalgia for the past. Kandalaft was born in Nazareth, in what is today Israel, in 1947, one year before Palestinians were expelled or fled in the war that led to Israel's establishment.
Her works feature a more traditional depiction of Palestinian women, but she approved of Samara's more intimate portraits. "It is not necessary always to talk about Palestinian core issues," she said. "Palestinians have to talk about life as well."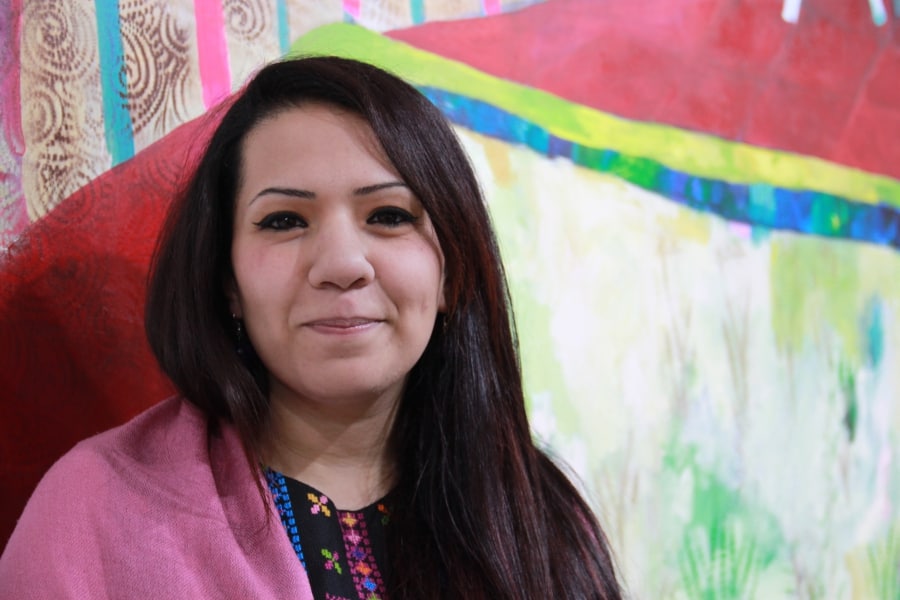 Samara said she has been accepted to a master's of fine arts program at the California Institute of the Arts, and is trying to raise funds to pay for it. Her dream is to exhibit her work at the Venice Biennale, the Olympics of the art world, as the official Palestinian representative.
By Daniel Estrin
"I have always been intrigued by both the stories and untold silences women transfer from one generation to another, in particular from mothers to daughters. Women hide great stories and if you give them the opportunity they will make great storytellers. Intimate stories and female wisdom through experience are the sources of inspiration for me and for my practice. That said, perhaps my own experiences are a latent inspiration too. I grew up in a typical Palestinian family and consequently spent most of my childhood and teenage years observing and analyzing social and gender relations. I came to understand how precious, yet also suffocating women's roles as carers and nurturers can be.
"My first academic experience with the visual arts was at the Palestine Technical College in Ramallah where I completed a two-year diploma in graphic design. However the program did not fulfill my desire for knowledge. In the theory lectures we always touched upon Contemporary Art, and it made me want to explore this area in greater depth. I therefore applied to the International Academy of Art in Palestine to study BA Contemporary Visual Arts. It provided me with the opportunity to develop a broad scope in the understanding and practice of visual arts across the medium of photography, installation, painting, video, social intervention and theoretical studies.
"Women, gender and sexual relations comprise the backbone of my work; It all started after a walk in Al-Amari refugee camp where I began wondering about the sex life of couples living in such a condensed spaces that affords them almost no privacy. This privacy is especially difficult to achieve considering the large size of most Palestinian families and the cramped proximity in which neighbours and families live to each other. In my research I investigate the social contexts of sexuality in which I rely mostly on my personal relations with various women I met. I have intimate and continuous conversations with them about virginity, intimacy, sexual desire, gender norms, their convictions and relationships and roles vis à vis the younger generations and these conversations form the cornerstone of my research for my practice in which I utilize various forms including painting, video, installation and also embroidery. My practice currently focuses on painting, both for potential of the medium as well as its historical references and contexts.
"My current body of work focuses on the question of women's bedrooms, which reflect a woman's social class, sexual life, the amount of privacy they have and at times can even resemble a crime scene. I explore the question of where we are positioned as a viewer to these rooms and how through voyeuristically intruding on the scene we are able to sense the lives of the women who inhabit and perform their sexuality in these rooms and the relationship between place and social norms. Currently I am working on body of work which focuses on the question of virginity. As Palestinian society is predominantly conservative, virginity is extremely important and proof of it is still sought by the groom's family. This proof usually takes the form of a blood stained handkerchief that is shown to the women in the family after the wedding night. For this project I gave 50 handkerchiefs to different men and women and asked them to embroider upon them their views and understanding of this longstanding tradition. Working across different mediums and forms enables me to explore intimate and taboo questions of female sexuality in my society.
"My recent research moves these above questions into the realm of public space and how it can become an intimate one within seconds. I wonder what kind of intimate situations are born in a space and how many stories there are to share and I am keen to explore how this manifests in different places, contexts and corners of public space.
"Since my graduation last year from the International Academy of Art in Palestine, I have continued to work on the above-mentioned themes in my artwork. I have recently showcased two of my artworks at the French-German cultural center in Ramallah in the exhibition "Disrupted Intimacies" which brought together a selection of artworks from the graduates of the International Academy of Art for the first time. The selected artworks focused on the above-mentioned conversations I had with women on the subject of social taboos – female sexuality, virginity, intimacy, sexual desire, and gender norms – and these were shown through the medium of large-scale painting of domestic spaces.
"I also taught part-time courses at the academy to first year students studying the BA in Contemporary Visual Art. I have now been accepted to study the MA in Fine Art and Theory in Northwestern University in Chicago and this has come at a pivotal point in my career where it will empower me in the development and evolution of my work."
Rana Samara Palestinian Art Rana Samara Palestinian Art Rana Samara Palestinian Art Rana Samara Palestinian Art Rana Samara Palestinian Art Rana Samara Palestinian Art
Artists featured in this exhibition
Further Information:
Works available by Rana Samara via Artsy
For inquiries and questions contact us