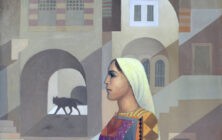 Narratives Palestinian Art Collective Narratives Palestinian Art Collective
NARRATIVES
PALESTINIAN ART COLLECTIVE
14 - 28 JUNE 2015
In the modern media-saturated, globalized world, it is part of the human experience to have an image bank in our minds and memories, both private and personal, as well as public and collectively shared. Without such images and the means to interpret them, we would be in a state of continuous amnesia, a condition in which we would struggle to find meaning and purpose.
All societies and ethnic and culturally-connected groups share image banks of histories, stories, and symbols – their narratives. Palestine is no exception. Indeed, its image bank is richer and fuller than many and is shared and familiar across generations and the scattered and broken geography; the collective credit in this bank is rich and equitably distributed. Few explanations are needed as the collective suffering and awareness in examples of such images are mutually understood.
Artists have mined this rich source of images in their personal and idiosyncratic visual languages and continue to do so as they extend the boundaries and possibilities of media and meaning. The land and physical body may be subject to restrictions, but the imagination can be a place and space of freedom and possibility.
Visual artists, in whatever medium they choose to use as a vehicle for their ideas, are uniquely placed in this regard. The images in the paintings, drawings, and sculptures in this exhibition explore the historical legacies and traditions which are being slowly erased, the pleasures but also some of the horrors of Palestinian life, the contradiction of experiencing pain and hope in the same measure, the divisions and separations. Dancing can be a form of uplifting freedom for the body, but there is also a macabre dance that takes place between the occupier and the occupied, the oppressor and the oppressed. Iconic images of the voices of Palestine's soul and its conscience, such as the poet Mahmoud Darwish (in Mohammed Saleh's paintings), are instantly recognized. A shared visual library of images echoes through many of these works: the women in traditional dress, the fruits of labor on the land, the old village houses, mothers protecting their children, and birds in flight. But ghostly presences also seem to haunt many of these works. The images that spoke of steadfastness, defiance, and freedom, as well as the natural riches of the land, have been encroached upon by others: a blinkered carthorse pulling a heavy load (Sliman Mansour) and images of walls and checkpoints (Nabil Anani) which are now also iconic and similarly recognized by everyone. A collective bank of images and voices across time and distance, reflecting Palestinian life and its unique narrative in all its forms.