Rana Samara (Artist)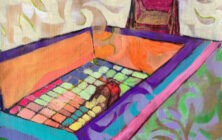 Bashir Makhoul
Bashir Makhoul was born in Galilee in 1963 and completed his Ph.D. in 1995 in the UK. He has exhibited his work widely in Britain and internationally, including at the Hayward Gallery, London, Tate Liverpool, Harris Museum, Preston, Saatchi Gallery London, Arnolfini Gallery, Bristol, Ikon Gallery, Birmingham, the Liverpool Biennial, The Herzilya Museum, Jordan National Museum, NCA Gallery Lahore Pakistan, Haus am Lutzowplatz Berlin, UTS Gallery, Sydney, Australia, Elga Wimmer Gallery, New York, 798 Yang Art Museum Beijing, Shanghai Minsheng Museum, 55th Venice Biennial, Italy, Aichi Biennial, Japan, the Asian Triennial, UK, The KL Biennial (2017), Institute of the Arab World Paris, 2016, Today Art Museum, Beijing 2019 and many others. His work is featured in significant private and public collections around the world.
In addition to being a renowned Palestinian artist, Makhoul is a published author and leading scholar in the areas of art, conflict, and identity. His co-authored book, The Origins of Palestinian Art (2013), is regarded as a foundational text on the topic, and its recently published Arabic translation has consolidated his influence as an artist and scholar throughout the Middle East. His latest co-edited book, Contemporary Art in Global Asia, published by Routledge, continues to extend his influence. He is a professor of contemporary art and currently the President and Vice-Chancellor of The University for the Creative Arts in the UK.
Makhoul has been based in the United Kingdom for the past 33 years, from where he has developed a globally recognized artistic practice. The significance of his work was identified early on by scholars such as Sean Cubitt, who, in his article on Makhoul's early work, 'Arabesques: Bashir Makhoul and the Unfinished Project of Modernism,' saw in his practice a serious engagement with the legacies of Western modernism from a post-colonial Middle eastern perspective. The paintings on which Cubitt based his astute article laid the conceptual and aesthetic foundations of Makhoul's oeuvre, in which often conflicting artistic traditions between East and West, the 'fine,' and 'decorative' arts are entangled in painful histories, political realities, and personal and collective pleasures.
He has explored these themes across many mediums from video and sculptural installations to fine tapestries, but painting has always been the core practice in his work. Imagery generated from his monumental installations such as 'Genie' at The Imperial War Museum, 'Enter Ghost, Exit Ghost' at the Yang Gallery Beijing and 'Giardino Occupato' at the Venice Biennale, re-emerge and are reformulated in his paintings, mostly in his use of partly abstracted depictions of houses. These houses, presented in immersive installations or entirely covering the surface of paintings, have become a signature motif of his work, in which they are used to condense and intensify the relationships between abstraction, repetition, and pattern alongside ideas of the home and displacement.
An essential aspect of his work has been an emphasis on the visual and tactile pleasures of rich and complex surfaces that restlessly fluctuate between the figurative and the abstract and the personal and the political. In his recent project, 'The Punishment of Luxury,' these aspects of his work were explored in depth through an engagement with George Bataille's ideas of luxury and excess, in which he asserts that "it is not a necessity but its contrary, luxury, that presents living matter and mankind with their fundamental problems." By reconceiving luxury beyond the constraints of capitalism, as Bataille did, Makhoul's project opened up philosophical and ethical possibilities in our understanding of contemporary art. The last three decades have seen the progressive loosening of the West's cultural hegemony in the global art world, and for Makhoul, whose career has spanned the same period, this has been hugely significant. Makhoul's international distinction as an artist has been formed in terms of the unitary character of his creative and critical consciousness – formed through his unique contribution as a leading educator in a leading British creative arts university, harnessing his own experience as a migrant negotiating west and east, expressed through a dynamic process of aesthetic inquiry, ever-questioning and exploring the visual forms of this now global contemporary artistic exchange.