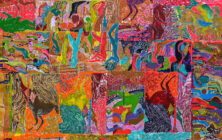 Born in Jerusalem in 1985, Alaa Albaba studied at the Visual Arts Forum between 2008 and 2010. In 2015 he obtained his bachelor's degree at the International Academy of Contemporary Art Palestine. He participated in many art exhibitions in Palestine and abroad. His most prominent project is The Fish Path (2015 – 2017), starting from Al-Nabi Saleh Village to Al-Amari Refugee Camp, the artist created 18 murals throughout Palestine, Lebanon, and Jordan, focusing on painting fish as a symbol of Palestinian refugees who are longing to return to their villages by the sea. In 2015, Albaba also obtained an art residency in Beirut at the Al-Jana Foundation for Arts and Culture.
Albaba uses different techniques and materials in his paintings and murals. He produced a number of surrealist and expressionist artworks through his "On the Wall" initiative. In his paintings, he relies on research and experimentation highlighting the density of the camp through different comparisons and approaches with its modern urban surroundings which to this day preserves its architectural and political identity. Albaba explores different socio-political issues focusing on his relationship with the refugee camp where he lives.
Albaba participated in a series of exhibitions, his first participation took place in 2009 in Irbid titled "Faces in Jordan", he then exhibited in "Palestine in the Eyes of the Youth" within an annual exhibition organized in more than ten locations inside historic Palestine in 2010. Albaba also participated in "Pixelated Spaces" at the Arab Culture Association in Haifa in 2019, the "Facility" exhibition at the A. M. Qattan Foundation 2019, and "The Camp" exhibition at Al-Mustawada gallery space in Ramallah 2020, which was also shown in the neighboring city of Jerusalem at Yabous Gallery. He exhibited in several group shows, including the "City Life" exhibition at the Arnhem Museum in the Netherlands in 2020. Albaba also participated in two exhibitions at Zawyeh Gallery, the first in 2020 titled "Take My Hand, You Impossible", and in the second edition of Ramallah Art Fair in 2021.