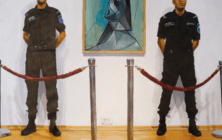 November 21 – November 23, 2019
Booth S15, Manarat Al Saadiyat, Abu Dhabi
Zawyeh Gallery participates in Abu Dhabi Art 2019, with distinctive old and new artworks representing five renowned Palestinian artists:  Khaled Hourani, Nabil Anani, Sliman Mansour, and Tayseer Barakat. Across the spectrum, the artists use a wealth of materials and represent a variety of styles, examining an array of subjects that stem from Palestinian reality.
Khaled Hourani participates with two pieces from his early project "Picasso in Palestine," which was organized in cooperation with the Van Abbe Museum. While his "Picasso in Palestine, 2019" (acrylic on canvas), is a recreation of a photo of Picasso's Buste de Femme (1943), exhibited in Ramallah in 2011, which appears with two Palestinian guards. His "Picasso in Palestine 2019, installation view: catastrophe and the power of art, Mori Art Museum, Tokyo" (Photography), is a reproduction of several layers of "photos of photos\" of guards wearing several national customs guarding eventually a previous photo of the original Picasso painting displayed on the exhibition wall in Ramallah. In his project Picasso in Palestine, Khaled Hourani originally questioned a complicated loan procedure and endless negotiations between different parties in order to display a famous painting in the exceptional nature of Palestinian reality. The project took new dimensions as it developed at a later stage when the new reproductions delved further into examining the relationship between art and power.
On the other hand, Nabil Anani, introduces new materials in his series "Olive Groves", using natural desiccated plants, straw, and mixed media. His artworks capture an empty semi-arid landscape in which plants grow scarcely while olive trees thrive. The scenery of olive groves spreading over the horizon through the Palestinian landscape reflects the sturdy nature of this plant that remains rooted in the earth despite adversities.
Natural materials are also focal in Sliman Mansour's artworks. The combination of mud and acrylic on wood reflects the tension between the rough cracks of mud which is dominant, in contrast to adjacent areas of smoothly painted acrylic colors. Mansour's paintings represent the stalemate situation in the Palestinian current reality and the subsequent changes that permeate the nature of Palestinians as people. They suggest a slow transformation of colorful, vibrant figures into disintegrating characters broken into many colorless pieces. Yet, it is not all dim and gloomy, his "Temporary Escape" gives some hope that this transformation is only transient.
Tayseer Barakat's wooden work reminds us of early cave drawings. Animals, abstract figures, and alphabet-like symbols are all executed using wood-burning tools. His works represent a past phase from the nineties, in which the artist primarily examined details of his personal life in Jabalia refugee camp in Gaza as if writing a prolonged detailed memoir.